Clancy and Tennant join Rapha-Condor-Sharp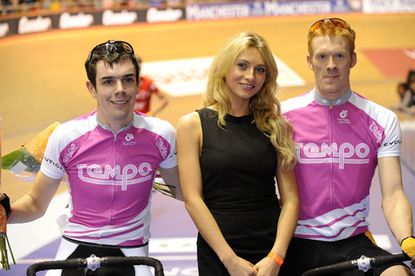 Motorpoint stars Ed Clancy and Andy Tennant will ride for Rapha-Condor-Sharp in 2011.
"I've had a cracking year at Motorpoint," Clancy told Cycling Weekly. "I am thankful to Phil Griffiths, the sponsors and, most of all, my teammates. My main goal is to win the Olympics, and I need to find the best route to that destination."
Clancy's move stems from uncertainty over his team's future. "I'm looking for a 2 year-deal, something to take all the way to London
2012," he said.
It has since become known that the Motorpoint team will continue for next season, with an increased budget.
"Ed is a rider we've had our eye on for a long time, but he's tremendously loyal and so it wasn't really possible to progress that discussion until it became apparent that his former team was unlikely to continue next year," team manager John Herety said.
A world omnium champion and Olympic gold medallist on the track, Clancy was also crowned national circuit race champion in June. Both he and Tennant are in the current Great Britain pursuit team which will be competing at the European championships in Poland this week.
On the road, both also played key roles in Motorpoint's succesful Tour Series campaign this year.
"I think in the short term we can provide Ed with a stable environment that compliments and supports his commitment to GB cycling. In the long term I think we can provide the setting in which Ed develops into the type of road rider he's indicated he wants to become in the future," Herety said.
"In a similar vein, Andy is a rider who's capable of a great deal, he's got a big engine that makes him valuable to the team as a support rider, but I've bought him to this team to win as well."
"On his day he's capable of pulling off a big victory, we've seen him do it before but he'll get more opportunities to step up and do that in this team. Again we'll be working around his commitments to GB cycling, but I see the benefits that come from that association as offering us far more positives overall. "
With the signing of James McCallum announced last month, Rapha-Condor-Sharp look to be in a strong position for next season, despite the recent retirement of Premier Calendar winner Chris Newton.


Related linksMotorpoint-Marshalls Pasta's future hangs in the balanceMcCallum joins Rapha-Condor-Sharp for 2011
British transfer round-up, October 22
Thank you for reading 20 articles this month* Join now for unlimited access
Enjoy your first month for just £1 / $1 / €1
*Read 5 free articles per month without a subscription
Join now for unlimited access
Try first month for just £1 / $1 / €1