35-year-old British road bike 10-mile time trial record finally tumbles
George Fox averaged over 51kmh to beat Colin Sturgess's 18.48 by seven seconds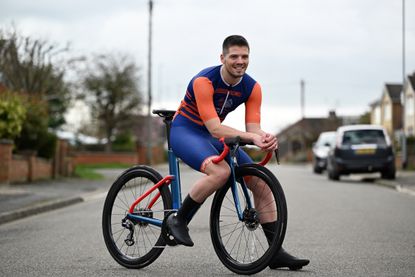 (Image credit: Andy Jones / Future)
George Fox was hoping he might break Colin Sturgess's British road bike '10' time trial record this season, but he didn't predict he'd take it at the first time of trying. Riding his superfast Argon 18 he'd christened the 'bad idea bike', Fox took seven seconds off Sturgess's 18.48, set in 1988 on a standard steel-tubed road bike.
The record ride took place on the F11/10 course near Tring, Hertfordshire, on 7 May.
"We got there, it was a long process but obviously satisfying nevertheless," Fox, 29, told Cycling Weekly.
Fox wasn't brimming with confidence going into the evening event, after a recent private practice run that went less than well, by his own admission.
"I did a mid-20 and came out of it panicking," he said. "That was at the start of April and did more damage than good, as I came out of it going, 'why has nothing worked?'."
But a few positional tweaks – not to mention watching YouTube videos of the Tring course on repeat and a little clemency from the weather gods – clearly set Fox straight.
On the day, live timing meant Fox could watch the times set by the riders he coaches with his company, George Fox Cycling Solutions, to get an idea of conditions on the course as he warmed up on the turbo trainer.
"The people that I knew, I could look at those people and say, right, you've done a good time, or you've done a bad time, and that made it a bit easier," Fox said. "One guy did a really good ride and a quick time and PB so I knew at that point, I should be OK."
The Midlands rider averaged normalised 381 watts for the VTTA London & Home Counties event, which included two turns – one of them particularly tricky. He was first road bike rider, of course, but second overall to TT bike rider Richard Oakes, with 18.12.
Cycling Time Trials, which is keen to encourage road bike riders in time trials, has very recently launched enhanced results for those on dropped handlebars, allowing them to see their results in their own separate category.
It posted a report on Fox's ride on social media, calling his ride "a new road bike competition record", which might give cause for optimism for those who'd like to see a new and separate comp record category for road bikes – including Fox.
"I'm hoping so," he said. "I think if you're going to categorise road bikes as its own category, then you probably should [have a comp record category for them].
"And I think that's only a healthy thing as well. Because all of those records, if they're new records in inverted commas, are also more achievable. And I think when records get broken, it's good for the sport," he said.
While Fox was one of only two road bike riders in the VTTA event, a separate road bike category has proved popular with many, including, apparently, Alex Dowsett. He rode the Maldon '25' at the weekend, though was forced to abandon after puncturing at 19 miles, and is set to ride the classic Leo '30' this Sunday.
Fox spoke to Cycling Weekly at length earlier this year about putting together his bike and his road bike ambitions.
Thank you for reading 20 articles this month* Join now for unlimited access
Enjoy your first month for just £1 / $1 / €1
*Read 5 free articles per month without a subscription
Join now for unlimited access
Try first month for just £1 / $1 / €1