Icons of cycling: Litespeed Vortex
Simon Smythe reflects on the Lynskey family's bold bike brand that brought competitive titanium frames to the pro peloton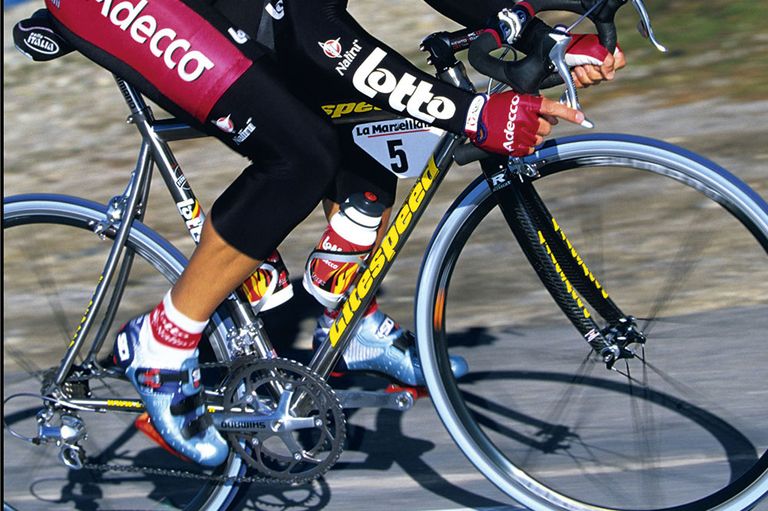 (Image credit: Graham Watson)
In 2002 Litespeed bikes finally appeared in the professional peloton with the Tennessee company's own name on the down tube.
But Robbie McEwen's green jersey win in the Tour de France and his 17 stage wins that year on his Litespeed Vortex would turn out to be titanium's swansong in pro cycling, as well as its apogee.
It had been no secret that Litespeed had already built some big-winning bikes. The Caloi-badged Motorola team bike that Lance Armstrong rode to victory in the 1993 World Championships was made from the 'wonder metal' in Chattanooga.
For his first Tour de France win in 1999, Armstrong's time trial bike was a Litespeed Blade with Trek stickers.
>>> Graphene frames are coming, and they could weigh just 350g
Litespeed came to cycling almost by accident. Bill Lynskey's Southeast Associate machine works had been supplying specialised alloys to the aerospace and chemical industries since the 1960s.
David Lynskey, Bill's son and an engineer in the family firm, took up cycling after injuring his knees running, and made a titanium bike for himself.
In 1986 he exhibited at the Long Beach Bike Show — the precursor to Interbike — with encouragement from a neighbouring business owner who was a keen triathlete.
At the beginning of the 21st century Litespeed was the king of titanium and had bought competitors Merlin and Quintana Roo. By now it had the reputation, the following and the budget to aim at the very top level of cycling.
Watch: How titanium bikes are made?
The Lotto-Adecco team of 2002 had superstars McEwen, Andrei Tchmil and Peter Van Petegem on its roster.
Litespeed was so confident in its bikes' performance, sizing and build quality that the majority it supplied to the 26 riders on the squad were off the shelf and in stock sizes. McEwen's Vortex was a standard 53cm.
The Vortex was the main bike and was made from the lightest and stiffest grade of titanium, 6Al/4V.
Litespeed's tube shapes were, it said, 'geometrically enhanced'. The Vortex had a 10-sided seat tube, a diamond-shaped top tube and teardrop-shaped chainstays.
It was incredibly sophisticated and could only be produced, as Litespeed pointed out, by people who had been custom fabricating titanium for 40 years. And with its gleaming Dura-Ace 7700 groupset it was the best-looking bike in the peloton.
But although a Vortex could long outlast its rider — and indeed there are many still around in perfect condition — time was running out for metal bikes at the top level and within a couple of years carbon was ubiquitous.
The Litespeed name still exists, however, but without the Lynskey family, who set up their own brand in 2005 and are still making quality frames for titanium enthusiasts under their own name.
Thank you for reading 5 articles this month* Join now for unlimited access
Enjoy your first month for just £1 / $1 / €1
*Read 5 free articles per month without a subscription
Join now for unlimited access
Try first month for just £1 / $1 / €1
Simon Smythe is Cycling Weekly's senior tech writer and has been in various roles at CW since 2003. His first job was as a sub editor following an MA in online journalism.
In his cycling career Simon has mostly focused on time trialling with a national medal, a few open wins and his club's 30-mile record in his palmares. These days he spends a bit more time testing road bikes, or on a tandem doing the school run with his younger son.
What's in the stable? There's a Colnago Master Olympic, a Hotta TT700, an ex-Castorama lo-pro that was ridden in the 1993 Tour de France, a Pinarello Montello, an Independent Fabrication Club Racer, a Mercian Classic fixed winter bike and a renovated Roberts with a modern Campag groupset.
And the vital statistics:
Age: 53
Height: 178cm
Weight: 69kg