'Nicole Cooke has offered a critique that British Cycling would be foolish to ignore'
Comment: Arguably the most talented and neglected British rider of her generation, British Cycling could do worse than take heed of Nicole Cooke's words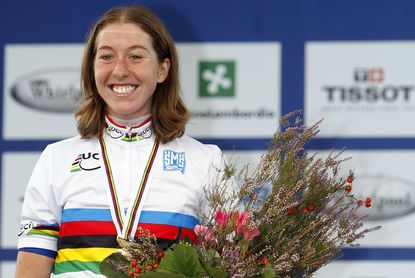 (Image credit: Yuzuru SUNADA)
Nicole Cooke has been making waves and breaking boundaries in cycling since she first emerged as a staggering all-round talent in the mid-1990s, when she was a regular winner of road, cyclocross, mountain bike and track races, often leaving a line of boys trailing in her wake when there were no girls to compete against.
An Olympic and world road champion and twice the World Cup winner, Cooke had established herself as one of the all-time greats of road racing when she retired in 2013 at the age of just 29.
>>> British Cycling hits back over Nicole Cooke's allegations of sexism in cycling
On Tuesday, as part of the ongoing inquiry into combating doping in sport, she re-emerged, giving evidence to the British government's Culture, Media and Sport select committee.
Her critique of British Cycling, UKAD, UK Sport and the UCI was every bit as well planned and executed as her devastating attacks to win the 2008 Olympic title in Beijing and the rainbow jersey in Varese just weeks later.
Cooke's words highlighted her huge talent, determination and bloody-mindedness in achieving all she did as a racer.
But they also left me and no doubt many other wondering how much more she might have achieved if she and her peers had received anything like the same financial and logistical support as those on the men's side of the sport, and how much more women's racing might have expanded if she had been promoted as a figurehead in the same way as Bradley Wiggins or Mark Cavendish.
In her evidence, Cooke referred to what then BC male road coach Rod Ellingworth described as 'the debacle of Madrid in 2005', when two members of Great Britain's men's team rode in the interests of the Italians rather than their leader Roger Hammond.
Madrid was far from a debacle for Cooke. However, speaking to her the day before that low point, immediately after she had just claimed the silver medal in a bunch sprint where she didn't have a single teammate with her, Cooke wasn't happy, complaining about the lack of support behind the scenes for her and other British women.
British Cycling's reaction to events in Madrid was swift and dramatic – on the men's side at least. Performance director Dave Brailsford removed John Herety as road team manager and revamped the road regime.
That process continued over subsequent years, leading in 2008 to the implementation of Project Rainbow and, in 2011, its successful conclusion with Cavendish's capture of the world title in Copenhagen.
Yet, according to Cooke, little changed for the women. There were improvements in some areas, but glaring oversights in others: inadequate mechanical support at the 2008 Worlds, where the Welsh rider became the first racer in history to win Olympic gold and the rainbow jersey in the same year; having to provide her own skinsuit for that same race; and Cooke and Emma Pooley having to pay for their own flights to Australia and accommodation whilst there as they prepared for the London Olympics.
A prickly personality who had a high-profile fallout with GB teammate Lizzie Armitstead after the Worlds in 2011 and railed against lack of coverage in the media but was often difficult to pin down for an interview, Cooke often did things her way.
Yet the success she achieved as a racer suggests that she was right in doing so. In combination with her astonishing talent, it was that bloody-minded determination that made her the world's best rider.
Whether that quality makes Cooke a candidate to lead a revamp of British Cycling's focus, as some have suggested in the wake of her culture, media and sport select committee appearance remains to be seen.
What is beyond debate is that she has provided an extremely insightful critique of the failings of that and other organisations, and should, if she is interested in such a role, be involved in mapping out its strategy for the years ahead.
Thank you for reading 20 articles this month* Join now for unlimited access
Enjoy your first month for just £1 / $1 / €1
*Read 5 free articles per month without a subscription
Join now for unlimited access
Try first month for just £1 / $1 / €1