Tour-Vuelta double places Chris Froome among the true greats of cycling
Froome has paralleled the feats of many of the past greats of cycling with an historic Tour de France, Vuelta a España double win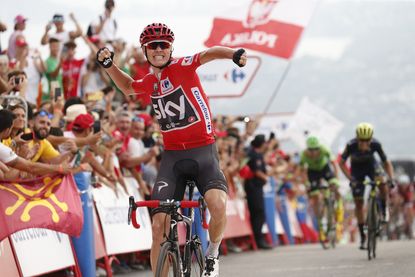 (Image credit: Yuzuru Sunada)
At the Vuelta's pre-race press conference for the race favourites, held very fittingly in the arena at the spectacular Roman amphitheatre in Nîmes, Chris Froome was asked to draw a comparison between himself and Eddy Merckx.
>>> Chris Froome seals historic Vuelta a España victory as Matteo Trentin wins stage 21
It's a question he has fielded plenty of times before and will no doubt have to on many occasions to come as he sets his sights on joining Merckx, Jacques Anquetil, Bernard Hinault and Miguel Indurain in the elite group of five-time Tour de France winners.
Of course, there's only one answer to the question and it is that Merckx is quite simply incomparable. However, three weeks on from the sultry afternoon in the south of France and after crossing what may have seemed to have been every peak between there and Madrid, Froome has accomplished a remarkable feat, one that eluded even Merckx (admittedly because he never targeted it), but has only previously been achieved by Anquetil and Hinault.
The Tour-Vuelta double is not discussed with the same regularity or reverence as the Giro-Tour equivalent, perhaps because, like Merckx, so few riders have ever set it as an objective, and even less so since 1995 when the Vuelta moved from its pre-Tour slot to its current August/September place in the international calendar.
Prior to Froome, the Vuelta was a Grand Tour where riders could salvage a season and Tour winners saw no reason to ride it.
Consequently, not only has Froome realised a feat that is completely unprecedented, but has played a significant role in revitalising the Vuelta, a race that was in the doldrums a decade ago.
Often portrayed as a robotic performer who spends far too much time with his gaze locked on his power meter, Froome has become the sport's ultimate tactician, and has demonstrated that more fully than ever this season.
Determined to go one better after three second place finishes at the Vuelta, he has put almost the same emphasis on the Vuelta's red jersey as the Tour's yellow.
He has learned from those near-misses and tweaked his racing programme this year in order to hold a little more back for the Vuelta. By deliberately building up more slowly to the Tour, with fewer race days and some significant beatings, primarily at the hands of Richie Porte, Froome took the risk of buoying his rivals.
Once he had negotiated the traps that had been set at the Tour and added that fourth title, he came to the Vuelta better prepared to sustain his GC challenge.
As Froome has explained regularly over the last three weeks, his approach has been a simple one: gain as much time as possible in the opening half of the race and then defend the red jersey.
Except, it's not been that simple, most obviously on the steepling concrete track up to Los Machucos, where he lost a significant amount of time to second-placed Vincenzo Nibali.
Yet, as was the case when Fabio Aru threatened Froome's progress to his fourth Tour title, the British rider was very quick to drop Plan A and implement a more adventurous strategy, out-thinking and out-riding his rivals in order to reassert himself.
In wrapping up back-to-back wins in the Tour and Vuelta, Froome has equalled Merckx's mark of 34 days as the leader of a Grand Tour in one season.
He's joined Italian legends Alfredo Binda, Gino Bartali and Felice Gimondi as five-time Grand Tour winners. He has, unarguably, joined the sport's stage racing greats.
His Tour-Vuelta double must also rank among the very best accomplishments of any British cyclist, and arguably as the all-time pick.
Next week, he'll be swapping a Sky skinsuit for a Team GB equivalent for the Road World Championships time trial. The/A Triple Crown is on…
Thank you for reading 20 articles this month* Join now for unlimited access
Enjoy your first month for just £1 / $1 / €1
*Read 5 free articles per month without a subscription
Join now for unlimited access
Try first month for just £1 / $1 / €1