Contador appeal delayed until November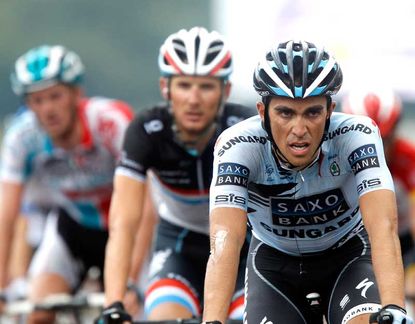 The case of Alberto Contador's positive test for clenbuterol at last year's Tour de France is set to be dragged out even longer after the Court of Arbitration for Sport (CAS) has once again postponed the hearing.
According to a CAS press release issued today, the appeal is likely to be rescheduled to dates in November.
The postponement has come at the request of the World Anti-Doping Agency, with the unanimous agreement of all involved parties, to allow "a second round of written submissions".
This will allow the parties "to complete their evidence and arguments relating to some specific scientific issues".
This is the second time the appeal has been moved back.
Originally filed by the UCI and WADA against the decision of the Spanish Cycling Federation's (RFEC) February decision to exonerate Contador of any sanction, it had been due to take place in early June.
However the RFEC requested more time to prepare evidence, which resulted in a rescheduling of the appeal until the first three days in August.
That it is WADA who have requested this second delay suggests they may wish to bring new evidence to the appeal.
Alternatively Alberto Contador and the RFEC may have presented evidence that WADA want more time to respond to.
WADA has a very successful record in cases that it has chosen to appeal.
According to the organisation's 2010 annual report, WADA reviewed 1,410 decisions last year and appealed 14 of them to CAS and other affiliated federations and appeals bodies.
Of those: nine were upheld, while the other five were still pending at the year's end.
It has now been over a year since Contador gave an adverse analytical sample on the second rest day of the 2010 Tour de France (July 21). News of positive took two months to formally enter the public domain, following his victory in that year's race.
He claimed the positive sample was the result of eating contaminated meat.
Because of his clearance by the Spanish Federation he was allowed to ride this year's Tour. However, he was unable to repeat this victory, finishing fifth and thus ending a run of winning every Grand Tour he'd started since 2007.
Contador will be free to continue racing at least until the appeal is heard.
Related links
CAS confirms postponement of Contador hearing
Contador hearing could be delayed until after Tour
Contador clenbuterol case: CAS selects hearing panel
CAS to make Contador decision before Tour de France
WADA appeals against Contador acquittal
UCI to appeal to CAS in Contador case
Contador now cleared of clenbuterol charges
Spanish media claims Contador could avoid ban
Contador could use 'Gasquet's Kiss' theory to back case
Contador says he will fight on despite provisional ban
UCI awaits final Spanish decision in Contador case
Contador tests positive for clenbuterol
Thank you for reading 20 articles this month* Join now for unlimited access
Enjoy your first month for just £1 / $1 / €1
*Read 5 free articles per month without a subscription
Join now for unlimited access
Try first month for just £1 / $1 / €1