Contador clenbuterol decision due at end of January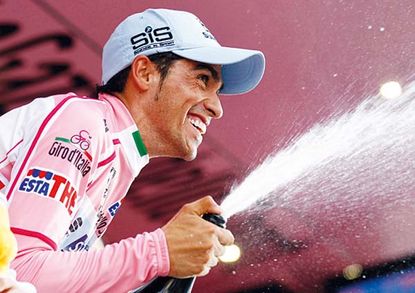 A decision by the Court of Arbitration for Sport on Alberto Contador's long-running clenbuterol case will be made during the week of January 31 2012, the organisation said on Monday afternoon.
CAS are ruling on the case of Contador and the Spanish Cycling Federation (RFEC) versus the Union Cycliste Internationale (UCI) and World Anti-Doping Agency (WADA) regarding Contador's positive test for banned substance clenbuterol during the 2010 Tour de France.
The UCI and WADA are seeking a suspension from competition for the Spaniard after he was cleared by RFEC.
The case was heard at CAS in Lausanne, Switzerland, over November 21-24 2011. Originally, the date of the final ruling was set for mid-January, but CAS has blamed recent media allegations regarding members of the arbitration panel for the delay in proceedings.
RadioShack-Nissan team owner Flavio Becca alleged via the media that Contador's CAS hearing was compromised as one of the three members of the hearing panel, Ephraim Barak, is an Israeli and his decision may be swayed by the fact that Saxo Bank held its team training camp in Israel. CAS immediately denied any possibility of bias in the case.
Contador has the right of appeal to the Swiss federal court against CAS's decision.
The full statement issued by CAS reads:
"The Court of Arbitration for Sport (CAS) has noted with great disappointment that some media have reported certain rumours in relation to the arbitration procedure involving the International Cycling Union (UCI), the World Anti-Doping Agency (WADA), Alberto Contador and the Spanish Cycling Federation (RFEC).
"The CAS will not comment on these allegations. However, the CAS has requested the parties to clarify whether, at this stage, any of them wanted to challenge the composition of the arbitral panel. As all answers were negative, the Panel will now be able to resume its mission. Unfortunately, this regrettable incident has slightly delayed the work of the Panel and the publication of the final decision should now take place during the week of 31 January 2012."
Alberto Contador clenbuterol case timeline

Wednesday, July 21 2010: Second rest day of 2010 Tour de France. Alberto Contador submitted to an anti-doping control in Pau, France
Sunday, July 25 2010: Alberto Contador wins the 2010 Tour de France overall News article>>
Tuesday, August 3 2010: Saxo Bank team boss Bjarne Riis announces that he has signed Contador for the 2012 season News article>>
Thursday, September 30 2010:
UCI announces that Contador tested positive for clenbuterol during
second rest day of 2010 Tour de France. Amount found was 50 picograms
per millilitre News article>>
Thursday, September 30 2010: Contador
holds press conference and claims that he must have ingested
clenbuterol from tainted beef steak brought from Spain to France by a
friend News article>>
Friday, October 1 2010: French newspaper L'Equipe
publishes article claiming that Contador's urine sample from Tour also
contained traces of plasticizers, a substance that can be found in blood
transfusion bags News article>>
Saturday, October 1 2010: Spanish media report that authorities are investigated the source of Contador's 'tainted' meat in Spain News article>>
Tuesday, October 5 2010: Comment: Contador, the clenbuterol, the beef excuses and the traces of plastic>>
Wednesday, October 6 2010: Expert opinion is divided on the two sides of the Contador case News article>>
Tuesday, October 12 2010: Contador says that he is considering quitting cycling over the case News article>>
Wednesday, October 13 2010: How does clenbuterol testing work?>>
Thursday, October 14 2010: Head of World Anti-Doping Agency David Howman dismisses Contador's tainted meat claim News article>>
Tuesday, November 2 2010: Spain's
top sports minister, Jaime Lissavetzky, urged that the public wait
before jumping to conclusions about Alberto Contador's positive test News article>>
Wednesday, November 10 2010: Spanish cycling federation undertake disciplinary hearing for Contador's case News article>>
Wednesday, January 26 2011: Contador is handed a one-year ban by Spanish cycling federation, and can appeal against the decision News article>>
Tuesday, February 15 2011: Contador cleared of clenbuterol charges by Spanish cycling federation and is free to race News article>>
Wednesday, February 16 2011: Contador returns to racing at the Tour of the Algarve in Portugal, he goes on to finish fourth overall

Thursday, March 24 2011: UCI announces that it will apeal to CAS against the Spanish cycling federation's decision to clear Contador News article>>
Sunday March 27 2011: Contador wins the Volta a Catalunya overall News article>>
Wednesday, March 30 2011: WADA
also lodges appeal with CAS against the Spanish cycling federation's
decision to clear Contador. CAS later announces that the two appeals
will be heard as one News article>>
Thursday, March 31 2011: CAS announces that it will reach a verdict in the Contador case before the Tour de France in July 2011 News article>>
Thursday, May 26 2011: CAS confirms that Contador's hearing will be delayed until after the Tour, leaving him free to take part in the race News article>>
Sunday, May 29 2011: Contador wins the 2011 Giro d'Italia overall News article>>
Sunday, July 24 2011: Contador finishes the 2011 Tour de France in fifth place overall News article>>
Tuesday, July 26 2011: CAS announces that Contador's hearing will take place in November to allow "a second round of written submissions" News article>>
Wednesday, September 28 2011:
WADA publishes 2012 banned substances list and declares that
clenbuterol will still be banned at any level quashing rumours that a
threshold level would be introduced News article>>
Thursday, October 13 2011:
WADA withdraws two non-related clenbuterol appeals after it accepted
that they could have been caused by the ingestion of tainted meat in
Mexico News article>>
November 21-24 2011: Hearing at Court of Arbitration for Sport for UCI/WADA versus Alberto Contador and Spanish cycling federation News article>>
Thank you for reading 20 articles this month* Join now for unlimited access
Enjoy your first month for just £1 / $1 / €1
*Read 5 free articles per month without a subscription
Join now for unlimited access
Try first month for just £1 / $1 / €1