Contador says he'll return to cycling after ban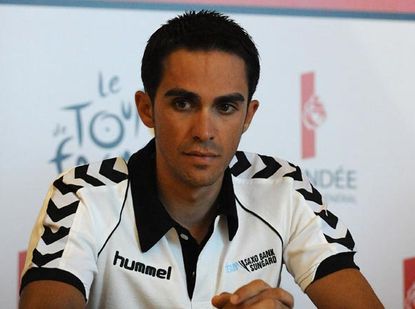 Alberto Contador has said that he will return to professional cycling when his suspension expires in August and says that he may challenge the ban imposed on him by the Court of Arbitration for Sport
.
Dwarfed by the barrier of microphones placed in front if him, a somewhat defiant Contador gave his first public appearance on Tuesday evening since being banned by CAS on Monday for failing an anti-doping test for clenbuterol at the 2010 Tour de France. He was stripped of the 2010 Tour title, and all of his results since then, including the 2011 Giro d'Italia overall win.
"I will continue in cycling," said Contador, speaking from the press conference held in a hotel in his home town of Pinto, near Madrid, Spain. "I will continue to do so in a clean way as I have all my life... I know that will make me stronger in the future."
"I have done everything possible to show that I am innocent," he told the assembled media.
Contador claimed that banned drug clenbuterol entered his system via a tainted steak - a theory discounted as improbable by CAS.
Contador thanked his fans for their support during the past 18 months, and received several vocal messages of support from people at the press conference. "Every victory I've had hasn't just been mine, it's been for the people. They'll decide if I am a champion or not," he said.
Contador said that his lawyers are looking at the possibility of lodging an appeal with the Swiss federal court against the CAS decision to suspend him from competition. It will be his final avenue of appeal.
Contador's back-dated suspension will expire on August 5 2012, technically leaving him free to race in the 2012 Vuelta a Espana. Contador's Saxo Bank team manager Bjarne Riis was at the conference with Contador, and said that the team will continue to stick by the Spaniard.
Earlier on Tuesday, World Anti-Doping Agency president John Fahey branded Contador a 'cheat', telling the Associated Press: "The simple fact is that anyone who has a prohibited substance in their system is a cheat."
"Every day a cheat is caught it is a good day for sport," said Fahey.
Related links
Contador banned for two years after clenbuterol positive
Hushovd reacts to Contador decision
Schleck reacts to Contador ban
Contador's clenbuterol case in brief
Alberto Contador: Rider Profile
Thank you for reading 5 articles this month* Join now for unlimited access
Enjoy your first month for just £1 / $1 / €1
*Read 5 free articles per month without a subscription
Join now for unlimited access
Try first month for just £1 / $1 / €1