Cyclehoop: keeping your bike safe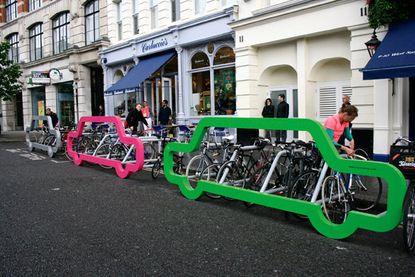 If you regularly park your bike on the street, it's likely you've come across Cyclehoop's products. In five years the company has established itself as a leading creator of unique bike parking infrastructure across the country.
At its south London office the workshop floor is cluttered with frames. The walls are decorated with awards and a cycle event with 150 riders is planned for the weekend. There's even an office unicycle challenge for all 14 employees. They do things their own way here.
The man behind Cyclehoop is Anthony Lau. While at university in London, his bike was stolen. But, Lau, now 32, turned his experience into a business venture.
A new hoop
He saw a competition asking designers to come up with a bike parking solution and along came the Cyclehoop - a steel ring and bar, which can be attached to posts on the street. "We had the idea of turning every signpost into a secure bike rack, that stops you lifting the bike over," Lau said.
But as well as providing a safe place to lock your bike, Lau wanted his products to be multi-functional.
10,000
estimated number of people who commue by bike and park in the City of London in 2011
50,000
cycle parking spaces available at stations around the UK
According to the Get Britain Cycling campaign, two per cent of all journeys in 2011 were made by bike, a figure it wants to see rise to 10 per cent by 2025. Yet as more people start cycling, infrastructure and parking facilities must also grow.
Finding space to put bike racks can be a problem and with a staggering 102,179 police reported bike thefts across England and Wales in 2012, bike security is a top priority. It's all about putting multiple functions in one place.
I thought, 'What's the problem in London?' There's no space, it's expensive to get bike racks and people lock to poles," Lau said. "Locking to a pole is not secure, you can lose your wheels, frame and the bike falls over.
Also some poles you shouldn't park to because you'll start blocking disabled car bays or doors. By putting one of these [the Cyclehoop] in, the council is saying you can park your bike here and you also reduce street clutter.
The hoop won an award at the competition in 2006, then Islington and Southwark councils approached Lau. Initially there were 30 hoops in London; today there are thousands of them. Lau spent two years refining the hoop, alongside working as an architect, developing the company during evenings and weekends and in 2008, he left his job in architecture to set up Cyclehoop full-time.
The hoop group
Since the hoop was released, Lau's team have expanded the range to cater for parking on the street and workplace as well as indoor and outdoor homes.
They include lamppost hoops, bike shelters, the car bike port, bike pumps to be placed on the street, indoor bike parking racks and bike lockers. The car bike port, a brightly coloured car shaped bike rack, originally commissioned by the London Festival of Architecture, takes just one car park space and turns it into parking for 10 bikes.
Similarly, the bikehanger or breadbin - currently Cyclehoop's most popular item - takes up one car park space for six bikes and is designed for people living in flats who can't get their bike upstairs. Lau's experience as a cyclist and his architectural training have proved invaluable and helped Cyclehoop create both practical and unique parking designs.
£9m
to be spent to increase bike parking spaces at stations around the UK by 20,000
3,000
the capacity proposed for the UK's biggest cycle parking facility to be built in Cambridge
12,500
the
number of spaces that will be available at Utrecht Central Sation in
the Netherlands, making it the world's largest bike parking facility
As a cyclist, knowing cyclists helps, you can relate to them. I want to design things I use," he said. "Being an architect, I understand spaces and design. It's quite important to design something that's both functional but also nice and fits in with a historic city like London.
Today Cyclehoop provides products to almost all the London councils and another 40 around the UK. They also work closely with housing associations, universities, the NHS and have provided cycling facilities for Paddington Station, Google's offices in New York and temporary bike parking during the Olympics.
Lau was even included in the Evening Standard's list of 1,000 most influential London people. Cyclehoop has also gone international. "We've gone as far as New Zealand, the US; Canada has some of our pumps. The car bike ports are really popular in Sweden. The biggest market is north Europe where cycling is particularly strong.
It's a far cry from the one-man operation that started in his bedroom: "I thought I'd just make some hoops and go on with architecture," he said. Lau admits he'd love to build a bike of his own one day, "a nice folding bike, the next Brompton", although the future at the moment is firmly fixed on bike infrastructure.
"There's a long way to go with cycling, so many things you can improve. There's a lot of high-tech stuff in Japan and Europe, amazing underground automatic bike parks. I think we'll be doing this for a long time.
This article was first published in the July 18 issue of Cycling Weekly. Read Cycling Weekly magazine on the day of release where ever you are in the world International digital edition, UK digital edition. And if you like us, rate us!
Thank you for reading 20 articles this month* Join now for unlimited access
Enjoy your first month for just £1 / $1 / €1
*Read 5 free articles per month without a subscription
Join now for unlimited access
Try first month for just £1 / $1 / €1