Cyclist sues e-bike brand Rad Power Bikes after sustaining injuries in crash
The lawsuit claims the e-bike stopped "suddenly and without warning"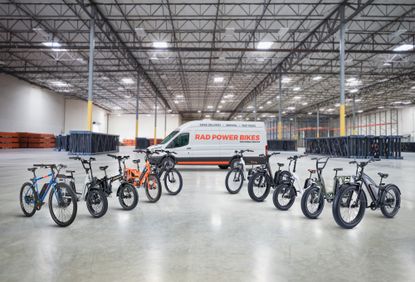 (Image credit: Rad Power Bikes)
A cyclist in San Francisco, USA has filed a lawsuit against an e-bike brand after he crashed and injured himself while riding.
Anthony Reyna claims he was using his Rad Runner Plus e-bike, made by Rad Power Bikes, "in the manner it was intended", when he was thrown to the floor.
The lawsuit, taken up at the superior court, alleges that the bike "suddenly and without warning" came to an "abrupt stop due to a default in its construction and/or manufacturing".
"This sudden and abrupt stop caused [the] plaintiff to fly off the electronic bicycle onto the ground where [he] sustained serious injury to [his] person and property".
Reyna, the plaintiff, claims the aftermath of the incident left him suffering a loss of earnings, as well as money spent on medical bills.
The lawsuit is seeking damages for general negligence, product liability and breach of warranty, claiming that design defaults with the e-bike "directly caused" Reyna's injuries.
The bike's manufacturer, Rad Power Bikes, has refused to comment on the ongoing legal matter, according to a report in Bicycle Retailer.
In 2022, the Seattle-based company made three rounds of staff layoffs, citing economic pressures on the business. The brand also issued a recall on one of its products, the RadWagon 4 e-cargo bike, due to a "fall and crash hazard".
In August last year, the parents of a 12-year-old girl, who died after crashing a RadRunner e-bike, filed a wrongful death lawsuit against Rad Power Bikes in Los Angeles. The parents alleged that the bike began to "shake and wobble" when their daughter descended a hill, riding on the back of her friend's bike as a passenger, resulting in the fatal crash.
The parents also brought a wrongful death lawsuit against Giro Sport Design, as their daughter was said to be wearing a Giro helmet during the accident.
In New York, e-bikes have been at the heart of new safety legislation, after a series of lithium-ion battery fires throughout the city. Last year, the New York City Fire Department (FDNY) responded to some 220 fires caused by lithium-ion batteries, in which six people died and another 147 were injured.
New York City's mayor, Eric Adams, has since signed a new bill that requires e-mobility devices and batteries to meet a minimum safety standard, specified as the UL 2849 certification.
Despite reports of incidents, it is important to note that e-bikes are generally safe and contribute to significant health and performance benefits for cyclists.
Thank you for reading 20 articles this month* Join now for unlimited access
Enjoy your first month for just £1 / $1 / €1
*Read 5 free articles per month without a subscription
Join now for unlimited access
Try first month for just £1 / $1 / €1