Dr Hutch: Lending kit to friends is a cycling ritual, but maybe draw the line at skinsuits
Loaning kit doesn't always pan out as planned, advises Cycling Weekly's columnist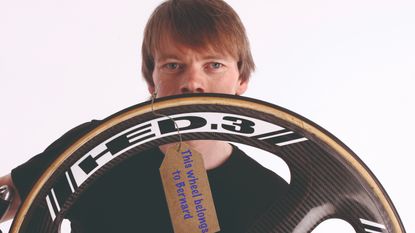 (Image credit: Future)
I was complaining to my friend Bernard last week about his habit of borrowing things off me and never giving them back. We were discussing where this fell on a scale from "the benefits of friendship" to "outright premeditated theft" when he levelled at me the outrageous accusation that I also borrow things.
"What about that front TT wheel you borrowed in July? I haven't seen it since."
I pointed out it was my wheel. He'd "borrowed" it in 2018.
"So what you're saying is I stole it from you, and then you stole it back from me? So two wrongs make a right?"
But I have borrowed things over the years. Not usually from Bernard, but from various kind-hearted souls, and when I look back I'd have to admit that it's normally left at least one party unhappy, if not both.
I once borrowed a track wheel from a rival, a Canadian called Mike, at a World Masters' Championships. My front pursuit wheel had started to delaminate, but I felt very disinclined to spend money on a replacement. So when I heard Mike was trying to sell a very nice Mavic front disc, I asked if I could borrow it and "see how it performs" before I "decide whether or not to buy it". The scheme was pure Bernard in the planning.
Unfortunately I won the championships. To put the tin lid on it, it was Mike I beat in the final. Bernard might have been able to hand it back with a shrug and "I was hoping for more," but I just couldn't, so I had to buy it. It was the most expensive win of my career.
A year or two before that, at a time trial, I arrived without race kit. A friend offered me a spare skinsuit. I accepted. I think we both regretted this deal the instant we made it – it was like offering to lend someone your underwear and them saying, "Wow, thanks, that's really great." But neither of us wanted to be the one who insulted the other by backing out.
I got the better of the arrangement – it wasn't my suit, so afterwards I washed it and returned it, and I was able move on with my life. They were stuck with it. You can't even burn skinsuits because they won't catch light.
Around the same time a coach at British Cycling lent me a pursuit bike, the idea being I'd be able to practice my starting efforts out of the gate. I took it to the local track, and indeed improved my starts, from "terrible" to "almost terrible".
The trouble was trying to give it back. There was no recognised system for borrowing anything from the team, certainly not in the sense of putting it in your car and driving off with it. So there was no way to return it. When I took it back to the mechanics' room a few weeks later, one of them said, "We've got a frame just like that – I was trying to find it yesterday. Beginning to wonder if some bloody tea-leaf bike rider has taken it."
So I mumbled something about the bottom bracket, and took it away again. In the end I just abandoned it outside the equipment room about a year later and (ironically) scuttled off like a thief in the night.
I've borrowed shoes that cut off the blood supply to my feet, and shoes big enough that just one of them would take both my feet. A very expensive tyre that was sufficiently sentient to explode on my bike rather than its owner's, landing me with the bill. A helmet that fitted so badly I had to hold it in place with one hand for 25 miles, like a Victorian lady in a gale.
Borrowing things never ends well. Unless, of course, you're Bernard.
Thank you for reading 20 articles this month* Join now for unlimited access
Enjoy your first month for just £1 / $1 / €1
*Read 5 free articles per month without a subscription
Join now for unlimited access
Try first month for just £1 / $1 / €1