Endura to merge with NetApp for 2013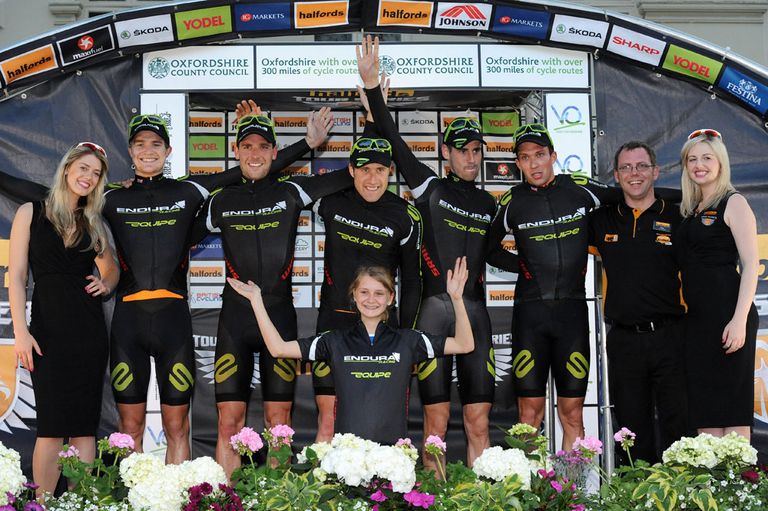 Endura Racing will be joining forces with Team NetApp for the 2013 and 2014 seasons to become NetApp-Endura, the German team has today announced.
The squad will retain a German licence, ride Fuji bikes and will be formed of 20 riders, including eight from the British team.
Although the identity of those riders has not yet been confirmed, French website Velochrono believes that those riders will be Scott Thwaites, Erick Rowsell, Jonny McEvoy, Russell Downing, Paul Voss, Zak Dempster, Iker Camano and Alex Blain.
NetApp-Endura will also retain a number of support staff from both the Endura Racing and NetApp teams.
The two-year deal represents a 'promotion' for the Continental registered Endura team to the Professional-Continental ranks. It also offers the team the possibility of riding races on the WorldTour; NetApp were invited to both Paris-Roubaix and the Giro d'Italia in 2012.
"That we have been able to resign NetApp and secure Endura as a key new partner is a milestone in the history of our team," said NetApp manager Eric Denk. "NetApp's commitment to the team's success has been fundamental to our achievements and bringing Endura onboard as an ambitious brand that deserves to be presented at the most important races in the world."
The director of Endura, Jim McFarlane, added, "Team NetApp and Endura Racing share the same ambition of progressing to the highest levels of sporting success and our commitment to Team NetApp-Endura means that we will be present at some of the biggest races on the planet.
"Perhaps more importantly, we will be giving some of our existing riders the chance to ride at the highest level whilst continuing to work with them, and the whole team, on product development and testing."
A British 'Pro-Conti' team
Talking to Cycling Weekly last month, Endura team manager Brian Smith explained that his ambition was for Endura to move up to the Professional Continental level and become a team for British riders stepping up from the domestic scene.
"I'd love to set up a Professional Continental team and help the next step of British riders, because if any of these guys wanted to get on Team Sky they're going to have to do something special," Smith explained.
Endura's star performer, Jonathan Tiernan-Locke, is widely believed to be joining Team Sky for 2013 after standout performances at the Tour of the Med and Tour du Haut Var early in the season.
Nevertheless Smith was keen to keep hold of three of Endura's British riders in particular: Jonny McEvoy, Scott Thwaites, and Erick Rowsell, adding, "Those guys have really come through this year. I would like to see them progress.
"We do have talented bike riders in this country," Smith continued. "But what do they do? One or two [British] Pro Conti teams would be brilliant."
Related links


Endura seal Halfords Tour Series victory
Thank you for reading 5 articles this month* Join now for unlimited access
Enjoy your first month for just £1 / $1 / €1
*Read 5 free articles per month without a subscription
Join now for unlimited access
Try first month for just £1 / $1 / €1
Richard Abraham is an award-winning writer, based in New Zealand. He has reported from major sporting events including the Tour de France and Olympic Games, and is also a part-time travel guide who has delivered luxury cycle tours and events across Europe. In 2019 he was awarded Writer of the Year at the PPA Awards.