Extinction Rebellion plots another British Cycling protest
Around 20 protesters will target the governing body's AGM this weekend to denounce its deal with Shell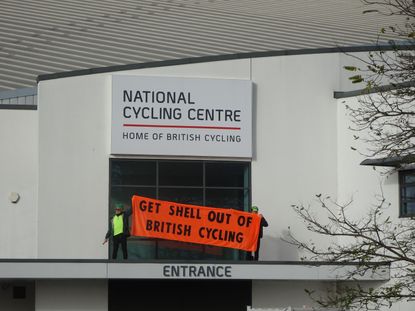 (Image credit: XR Midlands)
Members of the environmental group Extinction Rebellion (XR) are planning to protest British Cycling's annual general meeting in Birmingham this Sunday.
Around 20 people from the group's Midlands movement will target the governing body's event in protest of its sponsorship deal with oil and gas giant Shell UK.
In a press release shared with Cycling Weekly, XR said a banner with the words 'Get Shell Out of British Cycling' will be dropped outside the Edgbaston Park Hotel, where the AGM is scheduled to take place. The group also plans to set off smoke flares.
"Extinction Rebellion Midlands is calling on all concerned citizens to tell British Cycling that Shell's greenwash is not acceptable," the press release read. "We are not against British Cycling as an organisation. Many of us are keen cyclists who know that cycling is a key component of the shift to a cleaner, more sustainable transport system.
"This is why we're stunned that British Cycling has accepted millions of pounds in sponsorship from Shell."
Last October, British Cycling signed an eight-year partnership with the energy giant, writing that the deal would help its efforts to reach net zero and to get more people with disabilities into the sport.
The partnership sparked public backlash, with over 2,000 people signing a petition demanding British Cycling reverse the deal.
XR's AGM protest comes after the group unveiled a banner at the National Cycling Centre, the governing body's HQ, last November. Members of the group also protested the British National Track Championships in Newport in January.
XR member Michael Bastow, who is also a member of British Cycling, said: "We want them to know that the problem has not gone away and that we will keep up the protests until they stop taking blood money from Shell.
"This multinational corporation is one of the biggest contributors to climate breakdown and it is using British Cycling to greenwash its image. I can't imagine what it's like for our elite riders to have to race while wearing the Shell logo on their kit. They certainly can't be proud of it."
In a statement shared with Cycling Weekly, a spokesperson from British Cycling said: "We fully respect the right to safe and peaceful protest, and have continued to engage with our members and clubs through the first year of our partnership with Shell UK.
"We continue to make good progress on the shared ambitions of the partnership, including the growth of our successful Limitless disability and para-cycling programme."
It is uncertain how much money British Cycling's deal with Shell is worth; however, a leaked draft of the governing body's annual accounts revealed a collective income of £1.84 million from commercial partnerships in the year to 31 March 2023.
A spokesperson from Shell told Cycling Weekly: "Since the start of Shell UK's partnership a year ago, we have developed the award-winning Limitless disability and para-cycling programme that has grown to more than 40 clubs up and down the country, making a huge impact on the accessibility of cycling for disabled people.
"Of course, Shell UK respects the right of people to protest, and we remain focused on delivering the goals of our partnership."
Thank you for reading 20 articles this month* Join now for unlimited access
Enjoy your first month for just £1 / $1 / €1
*Read 5 free articles per month without a subscription
Join now for unlimited access
Try first month for just £1 / $1 / €1