Freire postpones retirement until London 2012 Games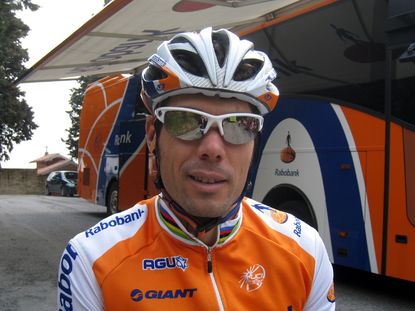 Three-time road race World Champion Oscar Freirewill continue until the 2012 Olympic Games in London barring injury next season. The Spaniard told his country's AS newspaper that the Olympics "inspire" athletes and are "totally different."
"When you are cycling, more or less, you always feel in the same environment when you go to any competition," he said. "However, being an athlete at the Olympics and meeting other athletes [from other disciplines] is worth the experience."
Freire is Spain's most accomplished one-day racer. He has won three gold medals at the World Championships - 1999, 2001 and 2004. In 2010, he took his third Milan-San Remo win and, for the first time, Paris-Tours.
"I won two important classic one-day victories," he continued. "Above all, I ended up wanting to race."
Freire, 35 in February, competed in the last three Olympic Games. He helped his team-mate Samuel Sánchez win the road race in Beijing in 2008. At the 2000 Games in Sydney, Freire finished 17th.
Next season's success will be the deciding factor for Freire's London push. He begins his season at the Mallorca Challenge in February, but the weight is at the tail end. He will skip the Giro d'Italia and Tour de France, and race the Vuelta a España in August to focus on a record fourth World Championship gold.
"With every World Championship win, the bar gets higher to win another."
If Freire is able to overcome the challenges and avoid injuries, London will likely be his last race.
Related links
Freire sprints to win Paris-Tours
Oscar Freire: Rider Profile
Thank you for reading 20 articles this month* Join now for unlimited access
Enjoy your first month for just £1 / $1 / €1
*Read 5 free articles per month without a subscription
Join now for unlimited access
Try first month for just £1 / $1 / €1