'Get riding with your mates, have fun': Tom Pidcock responds to safety critics over viral descending video
23-year-old features in 'sketchy' ride down Tuna Canyon descent video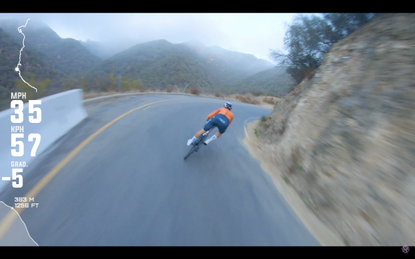 (Image credit: YouTube/SAFA Brian)
Tom Pidcock's viral descending video has set cycling social media ablaze this week, with most impressed by the young rider's bravery and skill on the Tuna Canyon downhill.
He teamed up with local filmmaker 'Safa Brian' Wagner to take on the steep and twisty descent, and the YouTube video has over 500,000 views and climbing.
Reprising the skills that had bike racing fans with their hearts in their mouths last July when the Ineos Grenadiers rider dropped off the side of the Col du Galibier like a stone before winning on Alpe d'Huez, the 23-year-old Yorkshire rider threw himself down the hill.
Reaching speeds of 70kph and averaging 36.3mph (58.4kph) on the three-mile descent, Pidcock looked fearless as he held onto a sometimes wayward back wheel around tight bends and made mid-corner, high speed corrections to stop himself plunging off the edge of the road.
However, while most responded positively, some took the opportunity to call into question the safety of the endeavour, and what his Ineos Grenadiers team would make of it.
One commenter said: "F***ing idiots! You think you do not need to respect traffic regulations?! How many STOPs haven't you stopped??????? Young people see you as an example... driving left instead of right isn't right..."
Another wrote: "This is terrible, dangerous and please don't copy this riding style! There are much better ways to descent!" While one YouTuber was thinking of his racing season: "Why so many risks? One mistake and all of the spring classics are gone fore this year. I doubt that the teamleaders of ineos [sic] liked this video .."
In response, the 23-year-old took to Instagram to explain his actions and that it has taken a lot of experience to get him to this point.
"For those asking, I did recce the descent a few times," Pidcock said. "It was a one way and there was a car ahead making sure all clear."
"I've been told it's a 'kids don't try this at home' one - very true!" he continued, before adding "but kids, get out riding with your mates, have fun, ive [sic] been 1000s of hours messing around on bikes with my mates before I had [the] skills to do this."
"Enjoy and be safe out there", the man from Leeds concluded.
His exploits so far this year show that he is the man with the skills - he won a stage of the Volta ao Algarve, only the third win of his career, before he briefly went off road on his time trial bike on the final stage, keeping it upright, which one would imagine would not happen to most riders.
The Tuna Canyon descent drops 390 metres at an average gradient of -9.75%, maxing out at -18%, over 4.4km, with 65 corners.
At the bottom of the climb, having reached the seafront having started at 445m altitude, a grinning Pidcock pronounced in the video: "That was a bit sketchy… but we survived".
Last year, his father Giles told Cycling Weekly: "I've followed him down mountain bike tracks and mountain passes before and it's like the bike is part of him. He knows exactly what each milimetre of tyre on the tarmac is doing, and it's just an amazing natural ability."
Thank you for reading 20 articles this month* Join now for unlimited access
Enjoy your first month for just £1 / $1 / €1
*Read 5 free articles per month without a subscription
Join now for unlimited access
Try first month for just £1 / $1 / €1