Hammond looks back at career of 'fantastic experiences'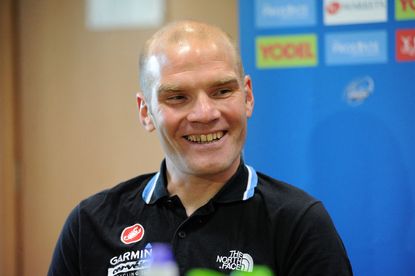 The denial is unsurprising for the 38-year-old whose racing career has been defined by a gritty determination and never-say-die attitude in the toughest competitions on the calendar. Yet Roger Hammond's 12th place ride at the National Cyclo-Cross Championships on January 8 looks like his last.
"I've got nothing at the moment, I'm not doing anything, so I'm probably stopping," he said at the time. Talking to Hammond a few weeks later, the situation hasn't changed.
"It's not racing at the moment so I'm starting to look at doing some other things," he says. It's the closest to an admission of retirement that he gets.
Explosive start
Despite the uncertain end to his racing career, Hammond has plenty of positives to look back on since he burst on to the British scene as a fresh-faced junior cyclo-cross rider with blond hair and a bike painted with tiger-stripes.
"You have so many fantastic experiences, it's an amazing career to have had and just every so often you start thinking back and think: 'that was unbelievable,'" he explains.
Hammond is the kind of rider who brings back memories for everyone who has met, ridden or raced with him. He first appeared in Cycling Weekly back in 1992, aged just 18, when he won the Junior World Cyclo-Cross Championships on home turf in Leeds - a win that marked the beginning of his aspirations on the road.
"After I'd won the Worlds in 1992, I knew I could be the best of my generation at something. And that was something I wanted to achieve on the road."
As one of the old guard of British road racing, Hammond had to tough it out in the amateur ranks in France and Belgium, without the structure of the British Cycling Academy, to make his dream a reality.
"I liked racing in Belgium. You have to be cutthroat as an amateur and race to win. In France [at Vendée U] we were racing as if we were on a pro team, but without being paid, and I didn't want to be racing for somebody else like that."
His enjoyment of racing in Belgium sparked a lifelong relationship with one race in particular: Paris-Roubaix. The demands placed on a rider in the 'Hell of the North' go beyond straight-line speed, playing into Hammond's favour. Discussing the race with him, his passion for the cobbles is evident.
Roger's Roubaix relish
"It captured my imagination and as a rider it was another advantage to me that there's a little bit more to it," he explains. "It's a hugely tactical race, which means I can make up some more, and it's a hugely skilful race as well. There's a lot more to Roubaix than just riding in a straight line very fast."
After finding his professional feet at the Palmans-Ideal team, by the end of 2004 Hammond had amassed a haul of results that included six British Cyclo-cross championships, two British road race championships and a third place at Paris-Roubaix.
Despite an impressive palmarès (his 2004 podium ride at Roubaix rubber-stamped a move to Discovery Channel in 2005), he remains coy about the professional scene at the time, particularly when he made the step up from the amateur ranks.
"To come from the amateur scene where I was winning races, up to the professional ranks where I couldn't stay with them, was hard. It was pretty depressing at times," he admits.
"In 2004 I was almost chosen not to ride Roubaix because of my haematocrit level. It was at 39 per cent and they thought I was ill."
Hammond spent two years riding for Discovery and a further two riding under Bob Stapleton at T-Mobile and then Team Columbia. He continued to drive out his trademark gutsy rides in the spring, but explains that it wasn't until he joined up with the Cervélo Test Team in its inaugural 2009 season that he felt he'd found a place where he truly slotted in and was comfortable.
Coming home
"The Cervélo team was a real positive change for me in cycling. It was the mentality of the team that I just really liked. Brad goes on about Sky and 'going home'; for me the Cervélo team was like that. There was a real mentality that was exactly what I wanted."
Part of that mentality included removing the elephant in the room that had been present in Hammond's professional career to that point.
"In no uncertain terms there was to be no doping; it didn't matter whether we didn't win a race," he continues. "It's not just about management, but about a group of athletes having the same approach as management and making it work.
"It was a great atmosphere, the people had like-minded ideas, working together with the same goal in unison with the management and it was just a fantastic couple of years. I just found it a real shame that that team couldn't survive longer than it did."
Content at Cervélo, Hammond completed his first and only Grand Tour at the 2009 Vuelta before recording one of his most successful Classics campaign with a seventh place at the Tour of Flanders and a fourth at Roubaix.
"I still think that I was as powerful as I was when I was 25 when I was 35," he says of those years, "so it was just that cycling was different in those days when I was 25, and that I can't change and can't do anything about. That was my time and I had to get on with it."
No last hurrah
Hammond explains that he found out late in the day that his contract with Garmin-Cervélo would not be renewed and, with team rosters already filled, his career has gone out with more of a fizzle than a bang. He is quick to point out that he enjoyed his time, but he is acutely aware of what could have been.
"For me, the thing I always said to people was that I wish I'd had my career 10 years later. I would've been more in line with today's modern cyclists and there would've been more opportunities for British riders. I don't want to sound negative about it, because I'm not, but that's just how it was. I just got on with the opportunity that I was presented with in a way that I was happy to do.
"You could easily come across as a bitter man... it's not that at all. I've had a fantastic career and I'm not going to fill it with bullshit that I loved every minute of it, but if it had been easy then it wouldn't have been fun and it would have been boring and not a challenge."
As a rider who started at the bottom and worked his way to the top, Hammond now hopes that those challenges he faced as a rider will put him in a good position for the next stage.
"I'd quite enjoy doing the commentary side of things, so I'd like to get involved with that sort of work. I'd like to think the things I've learned throughout my career would stand me in good stead to be a sports director who could bring a lot of positive ideas or hopefully bring quite a lot to the table as part of a team's management.
"I hope those experiences would help me. I know that I remember the negatives and I remember the positives and hopefully I could pass those on."
Highs and lows
"My least favourite memory would be crashing in Roubaix last year. When you've got high expectations for a race but then crash, it's horrible. But it doesn't mean that I don't like that race. The negatives are always going to be the races that I enjoy year in, year out but just had some bad luck with. It's about being disappointed.
"Riding the Vuelta often brought huge highs but equally, it could bring massive lows, too.
"And boredom! The ones that became boring were the ones where I wasn't going to be competitive or wasn't going to be able to help someone on the mountain stages and was left with no real goal... those ones I find the hardest mentally because I always performed better when I had a realistic task to achieve."
Classic Roger
Roger Hammond's results in the classics
3rd Paris-Roubaix 2004
4th Paris-Roubaix 2010
7th Paris-Roubaix 2007
7th Tour of Flanders 2010
2nd Ghent-Wevelgem 2007
6th Ghent-Wevelgem 2004
8th Ghent-Wevelgem 2003
10th Ghent-Wevelgem 2010
10th Ghent-Wevelgem 2000
8th E3 Prijs 2006
8th E3 Prijs 2004
2nd Dwars Door Vlaanderen 2005
3rd Dwars Door Vlaanderen 2004
Roger on Roubaix
"I remember the first time I saw it. There was just so much dust and mud and everything going on. I remember thinking at the time that it was a race that should suit me.
"When I first raced Roubaix in 2003 I had no time to do any reconnaissance. I was riding a normal road bike and still managed to come 17th. So I thought to myself that if I could do that with zero preparation and a standard bike, then I've got a good chance of being up there if I'm competing on the same level as the others.
"I never shied away from the fact that winning Roubaix was my ultimate goal. Of course it's a goal that I didn't achieve but I can at look back and say that I had a good crack at it. I'd love to be able to ride until I was 60 until I finally won it!
"Last year in training I was riding with Johan Van Summeren and told him: "I reckon you're going to win Roubaix." He went: "Oh whatever, I'm not going to win." I don't know whether he ever said it to anyone, but I actually predicted exactly how he'd win it. I was quite chuffed that I'd called it in January. I was hoping that I would do exactly the same thing but I couldn't tell Johan that I was going to win!"
Related links
Roger Hammond: Rider profile
Thank you for reading 10 articles this month* Join now for unlimited access
Enjoy your first month for just £1 / $1 / €1
*Read 5 free articles per month without a subscription
Join now for unlimited access
Try first month for just £1 / $1 / €1
Richard Abraham is an award-winning writer, based in New Zealand. He has reported from major sporting events including the Tour de France and Olympic Games, and is also a part-time travel guide who has delivered luxury cycle tours and events across Europe. In 2019 he was awarded Writer of the Year at the PPA Awards.