Best and worst US cities for cycling revealed; how how does your city rank?
Provincetown, Mass. tops the charts but Pelham Manor, N.Y. ends on the bottom.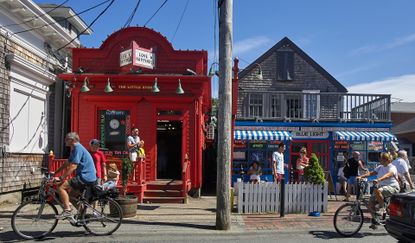 (Image credit: Getty Images)
Have you ever wondered how your city stacks up as a cycling-friendly city? Bicycling advocacy nonprofit PeopleForBikes has released its 2023 city ratings, highlighting the most bike-friendly communities across the country.
The organization's goal of these rankings is to help inform local leaders and advocates on how they can improve cycling accessibility and safety in their community.
The ratings are based on six different categories to form an overall score out of 100 for each city:
People- Access to parts of the city where residents live
Opportunity- Access to jobs and schools
Core Services- Access to basic needs such as grocery stores and hospitals
Recreation- Access to recreational amenities like parks or trails
Retail- Access to major shopping centers
Transit- Access to major transit hubs
The new ratings also include an interactive map showing the stress levels of riding in different areas within each city.
Also included are resources for how advocates can improve the score in the city, with suggestions for infrastructure and data-backed strategies to make roads safer for people on bikes.
Provincetown, Massachusetts, topped the rankings in this year's ratings with a score of 88 Provincetown is located at the tip of Cape Cod, and was praised for its ample bike parking in front of local businesses and on the beach, and its superior bikeability. One can bike across the whole town in just seven minutes thanks to its small footprint and a main street that is one way for cars but two ways for bicycles.
The mountain town of Crested Butte, Colorado, came in at number two with a score of 87. Like Provincetown, Crested Butte also has an easy-to-traverse town with bike racks in front of almost every store on the main street. Both of the top-ranked towns share easy accessibility for essential services by bike and easy access to recreation by bike. This helps to increase the number of people using bikes around town instead of cars, reducing congestion and pollution.
Similar qualities were also displayed in the top ranked medium size and large cities of Minneapolis, Minnesota, and Davis, California. With easy access to essential services like hospitals, plenty of bike paths away from busier roads and bike racks so riders can safely park their bikes all contribute to their top scores.
The Top 10:
Provincetown, Massachusetts
Crested Butte, Colorado
Blue Diamond, Nevada
Murdock, Nebraska
Ashland, Wisconsin
Jackson, Wyoming
Davis, California
Ankeny, Iowa
Shorewood, Wisconsin
Berkeley, California
The Bottom 5:
Edgecliff Village, Texas
Bow Mar, Colorado
Richland Hills, Texas
Mount Vernon, New York
Pelham Manor, New York
To see how your city ranks, check out PeopleForBikes.
Thank you for reading 20 articles this month* Join now for unlimited access
Enjoy your first month for just £1 / $1 / €1
*Read 5 free articles per month without a subscription
Join now for unlimited access
Try first month for just £1 / $1 / €1