Italy confirms Bernucci family doping ban: 20 years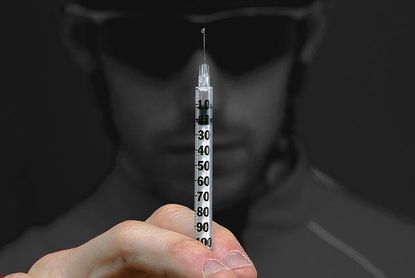 Italy proved today that it is ready to take big strides to protect its cycling heritage. The Italian anti-doping tribunal (TNA) issued a suspension totalling 20 years for cyclist Lorenzo Bernucci and his family.
"Lorenzo Bernucci, under the WADA code 10.7.1," read a release by the TNA, "is sanctioned with a five-year ban, from February 7, 2011, to February 6, 2016."
The TNA effectively ended Bernucci's professional cycling career. The 31-year-old's last race was the Three Days of De Panne in Belgium on March 31 nearly a year ago.
He won a stage of the 2005 Tour de France in Nancy and raced for Lampre last year. In April, police searched his home and found banned drugs.
At a hearing on August 24, he said, "I accept full responsibility."
Bernucci's family was also involved in the Padova-based investigation. TNA gave a four-year suspension to his wife Valentina Borgioli, mother Antonella Rossi and father-in-law Fabrizio Borgioli. His brother Alessio Bernucci received three years. The suspensions prohibit them from participating or attending any official sporting event in Italy.
The Italian Olympic Committee (CONI) recommended in December the suspensions to the TNA. The overall length varies by two years, CONI wanted six years for Lorenzo Bernucci and four years for his brother.
His mother and brother, according to La Gazzetta dello Sport newspaper, said in the first moments of the investigation that the drugs found were theirs. They later changed their statements. The newspaper also reported that his wife had sent an SMS to her father during the raids, it read for him to destroy everything.
Bernucci has already served a one-year suspension for using weight loss drug Sibutramine. He tested positive at the Tour of Germany on August 15, 2007.
The suspensions issued today centred on an investigation involving both Bernucci and Alessandro Petacchi. Petacchi won two stages and the green jersey at the Tour de France in last year and this year, still races for Lampre.
Police searched Petacchi's home and two other properties owned by his wife on the same day they raided Bernucci's home in April. The CONI has been investigating him over charges he used synthetic blood Perfluorocarbon (PFC) and human serum albumin in 2009.
Petacchi maintains his innocence. He has yet to begin his season this year, today announcing that he would forfeit the Tour of Oman.
He was "diagnosed with a serious bronchial asthma," read a team statement. It said he needs "therapy and a 10-day rest."
Prosecutors heard Petacchi in Rome on August 24 after they heard from Bernucci. They also called staff members of Italian team Lampre: Sports Director Fabrizio Bontempi, Doctor Carlo Guardascione and team masseur Paolo Chiesa, and Petacchi's wife Anna-Chiara.
Petacchi has also already served a doping ban. His ban was due to testing positive for excessive levels of asthma medication, Salbutamol, at the 2007 Giro d'Italia.
The CONI has yet to recommend a suspension to the TNA. If it does, it may range from four years to life because it would be Petacchi's second offence.
Related links
December 2010: Bernucci family suspended, Petacchi next?
September 2007: Bernucci gets sack from T-Mobile
Contador and Petacchi skip Tour de France presentation amid doping investigations
Petacchi leaves Vuelta for Italy: doping investigation awaits
Thank you for reading 20 articles this month* Join now for unlimited access
Enjoy your first month for just £1 / $1 / €1
*Read 5 free articles per month without a subscription
Join now for unlimited access
Try first month for just £1 / $1 / €1