JD Sports and Sports Direct reportedly rival Halfords in bid for Evans Cycles
The 1921 founded retailer is looking for investment and is reported to have several offers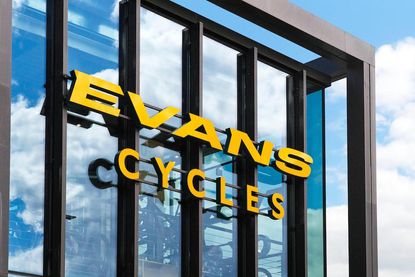 (Image credit: Alamy Stock Photo)
Three major sports retailers are engaged in a battle to takeover Evans Cycles, according to reports.
Sky Sports has reported that JD Sports Fashion and Sports Direct International have tabled indicative offers - as well as Halfords and a number of financial investors.
Evans is reported to have accumulated losses in excess of £8 million in the last two years and the 1921 founded retailer is understood to be seeking a £10 million investment.
However, Cycling Weekly understands that the £10 million quoted has been earmarked for positive investment in the business such as shop refits, store openings and e-commerce growth.
The estate has grown from one store, in Kennington Road, south-east London, to comprise of 62 shops as well as an online business and own brands, including Pinnacle bikes and FWE clothing and accessories.
JD Sports also owns the Go Outdoors chain whilst Sports Direct is run by Mike Ashley, who acquired the struggling House of Fraser in August this year.
The other party that has reportedly expressed an interest - Halfords - is one of Evans Cycles' competitors in the cycling market.
Halfords re-instated its Cycle Republic stores three years ago, and has since opened 21 bike boutiques.
The most recent Cycle Republic to open its doors is in Gateshead, 7ft in walking distance from Evans Cycles.
It's also opened a store in Nottingham (282.2 ft from Evans Cycles' store), West End (0.1 miles from Evans Cycles Mortimer Street store), Canary Wharf (0.1 miles away from Evans Cycles), Fenchurch Street (0.3 miles from Evans Cycles' Mark Lane store), Cheltenham (1.6 miles from Evans Cycles), Edinburgh (0.2 miles from Evans Cycles' store), Glasgow (0.5 miles from Evans Cycles), Manchester (0.8 miles from Evans Cycles in Deansgate), Birmingham (0.2 miles from Evans Cycles in Temple Street), Reading (0.5 miles from Evans Cycles), Norwich (0.2 miles from Evans Cycles), Leeds (0.2 miles from Evans Cycles), Bristol (0.2 miles from Evans Cycles). All distances are taken from Google maps and store information pages.
Cycle Republic's managing director Peter Kimberley left his role as Head of Retail at Evans Cycles in September 2013.
Evans Cycles' current owner, private equity firm ECI Partners, bought the company from Active Private Equity in 2015.
The company is being advised by PricewaterhouseCoopers (PwC) and AlixPartners is advising the retailer's lenders.
Thank you for reading 20 articles this month* Join now for unlimited access
Enjoy your first month for just £1 / $1 / €1
*Read 5 free articles per month without a subscription
Join now for unlimited access
Try first month for just £1 / $1 / €1