Evans Cycles seeking £10m investment by the end of next week
Advisers to the high street retailer have asked for bids to be presented in a matter of days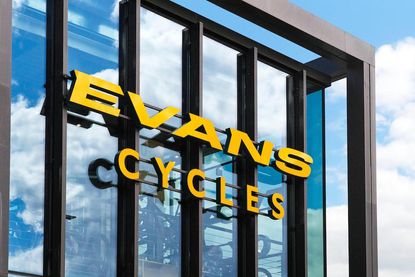 (Image credit: Alamy Stock Photo)
Evans Cycles is seeking a buyer to come forward before the end of next week, as it struggles to negotiate the difficult trading conditions facing high street retailers.
Sky News has reported that advisers to the company have asked potential bidders to table final takeover proposals imminently - and insiders have confirmed to Cycling Weekly that the reports are largely accurate.
The retailer, which opened its first store in Kennington Road, south-east London in 1921, now has over 60 shops within its network as well as an online business.
Reports state that the company is looking for £10million in additional funding but is not considering a company voluntary arrangement (CVA) - which would allow it to shut stores and cut rents without going bust.
The quoted £10million figure has also been confirmed as accurate, but Cycling Weekly understands that the cash is earmarked for positive investment in the business such as shop refits, store openings and e-commerce growth.
Insiders have said that a bidding process is taking place, to save the historically underfunded business, with numerous parties confirming they are interested in taking over.
The company, which has a head office in Gatwick, is responsible for a host of own-brand creations, such as FWE clothing and accessories as well as Pinnacle bikes.
Current owners - the private equity firm ECI Partners - bought Evans Cycles from Active Private Equity in 2015. On the high street, it competes with both Halfords and its bike specific 'Cycle Republic' stores.
In the past three years, Cycle Republic has opened 21 new shops - the latest in Gateshead, where Evans Cycles also has a store.
It's also opened a store in Nottingham (282.2 ft from Evans Cycles' store), West End (0.1 miles from Evans Cycles Mortimer Street store), Canary Wharf (0.1 miles away from Evans Cycles), Fenchurch Street (0.3 miles from Evans Cycles' Mark Lane store), Cheltenham (1.6 miles from Evans Cycles), Edinburgh (0.2 miles from Evans Cycles' store), Glasgow (0.5 miles from Evans Cycles), Manchester (0.8 miles from Evans Cycles in Deansgate), Birmingham (0.2 miles from Evans Cycles in Temple Street), Reading (0.5 miles from Evans Cycles), Norwich (0.2 miles from Evans Cycles), Leeds (0.2 miles from Evans Cycles), Bristol (0.2 miles from Evans Cycles). All distances are taken from Google maps and store information pages.
Cycle Republic's managing director Peter Kimberley left his role as Head of Retail at Evans Cycles in September 2013.
>>> Wiggle and Chain Reaction Cycles officially announce merger
Online, Evans Cycles has competition from the likes of the newly formed 'WiggleCRC' group conglomerate which formed in a merger in 2016.
Thank you for reading 20 articles this month* Join now for unlimited access
Enjoy your first month for just £1 / $1 / €1
*Read 5 free articles per month without a subscription
Join now for unlimited access
Try first month for just £1 / $1 / €1