Juan Antonio Flecha not discounting "new kids on the block"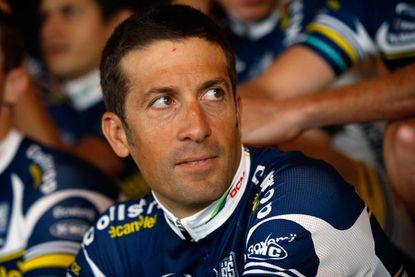 Juan Antonio Flecha has predicted fresh faces to come of age at the Spring Classics this season increasing the level of competition the Spaniard will face with new team Vacansoleil-DCM.
Flecha has joined the Dutch outfit after three years at Sky, which he left to pursue more opportunities at races outside of the Classics.
"I had freedom for the Classics but after I had to commit to many different riders in many different races," Flecha said. "I prefer to be a team rider but with more opportunities - go in the break if I want to, go on the attack, the Flecha everybody knows!"
It was perhaps a timely move with Sky's Classics squad this season embarking on a bold new plan designed to win a cobble race within the next few years. The strategy involves substituting traditional lead-up races such as Paris-Nice and Tirreno-Adriatico for a Tenerife training camp, which is at odds with Flecha's insatiable racing appetite.
"I respect that they always try to do things differently, since the beginning, and sometimes they succeed and sometimes not," Flecha said.
"I like to race. I missed last year all of these races because of an injury and I tell you it wasn't nice. I wouldn't like to do it again. For me it would feel a little bit like going into the Tour de France without doing the Dauphine or Tour de Suisse. Altitude training gives you a lot, you can simulate a lot of things, but racing is different. You've got adrenaline and many things you won't have in training."
The 35 year old animated a part of Saturday's Strade Bianche but his major goals are the Tour of Flanders and Paris-Roubaix. It's here Flecha anticipates former Sky teammates Geraint Thomas and Ian Stannard, amongst others, to issue a serious challenge to the usual suspects.
"I think this year there will be still the big names - the [Tom] Boonens, the [Fabian] Cancellaras and the [Philippe] Gilberts but I really believe we'll see this new generation that is coming," Flecha said. "[Peter] Sagan has already won many races, he's there, he's a champion and Edvald Boasson Hagen. It's the guys like [Taylor] Phinney, G [Thomas], maybe Stannard. In my opinion they've got a great future and they will be there, not, 'These guys are promising,' or, 'He is doing good but not really at the end.'
"I'm not saying one of the new generation is going to win a big monument, it can happen, it can also happen that Boonen or Cancellara or Gilbert still win, but I'm very sure this is going to be the year we'll see these new kids on the block."
Flecha appears to have adjusted well at Vacansoleil-DCM and is already acting as a mentor to younger teammates, including Boy van Poppel, providing race pointers. He admits the outfit is "completely different" to Sky, with a less rigid focus on sports science.
"It's a smaller team than Sky," Flecha observed. "Sky, they've got the resources, everything to back the riders and a much bigger budget and they can afford that. Here it's more like a normal team. Okay, you've got trainers, you've got some nutritionists but it's not like it was at Sky. For me, I'm an old rider so of course you always have things to learn but it's not something I'm missing a lot."
Flecha will start Tirreno-Adriatico on Wednesday as the Classics near.
"It's a very important period, Tirreno," he said. "I think it's a race that brings you to the next level condition wise and that's my first goal - to come out of this block healthy and with good condition. My goal is Flanders and Roubaix. There are little goals but it's not I need a result before going to Flanders. I don't."
Thank you for reading 20 articles this month* Join now for unlimited access
Enjoy your first month for just £1 / $1 / €1
*Read 5 free articles per month without a subscription
Join now for unlimited access
Try first month for just £1 / $1 / €1