Lance Armstrong fighting to keep sensitive doping case documents private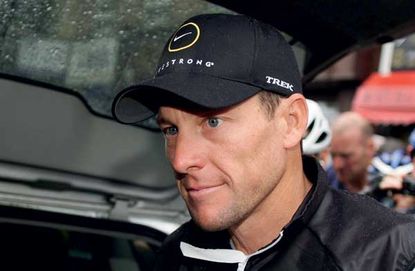 Lance Armstrong continues to fight in the aftermath of an investigation that stripped his seven Tour de France wins for doping. Last week, a US district court in Washington DC denied Armstrong's motion to keep sensitive documents sealed and his Fifth Amendment rights.
"[Armstrong's] Motion to Seal will be denied," read a four-page memorandum order. It referred back to a case involving former president, Richard Nixon: "The courts of this country recognise a general right to inspect and copy public records and documents, including judicial records and documents."
The move opens the door for the US Department of Justice to join a whistleblower lawsuit filed by former team-mate, Floyd Landis.
The document made public showed that Armstrong has been subpoenaed and that he was fighting hard to keep sensitive documents under wraps. The US Postal Service's office subpoenaed him in the autumn of 2010 in relation to claims that he used its sponsorship money to help himself and the team dope.
Armstrong initially refused to comply with the subpoena as at the time he was being investigated by the Food and Drug Administration (FDA). The FDA's investigation closed and the US Anti-Doping Agency's investigation started, which concluded that he doped throughout his career. On August 24, the United States Anti-Doping Agency (USADA) ruled to strip him of all results from 1998, including his seven Tour de France wins, and issued a lifetime ban.
On Monday this week (December 10) the UCI officially notified Armstrong of his lifetime ban and that it nullified his results. He has 21 days to appeal.
Because Armstrong failed to comply with the Justice Department's subpoena, the US district court stepped in and Judge Deborah Robinson ruled last week. As the Wall Street Journal noted, the lawyers enforcing the subpoena are the same ones helping the government decide whether to join Landis' whistle blower lawsuit.
Landis helped kick-start the Armstrong investigation in 2010. In the same year, he used the False Claims Act that allows citizens to file a lawsuit on behalf of the government. He reportedly pointed out that Armstrong and Tailwind Sports defrauded the US Postal Service by agreeing to sponsorship contracts that stated doping would not be tolerated.
The lawsuit could recover US Postal Service's money and deliver a penalty up to three times the amount. According to ESPN, USPS supported the team to a tune of $31.9m from 2001 to 2004, which means the penalty could reach $90m. Under the False Claims Act, Landis is allowed to collect up to 30 per cent of the money recovered.
Anything is possible as seen in the document release, which shows Armstrong considered using his Fifth Amendment rights to avoid the subpoena and suppress evidence. The Fifth Amendment essentially forbids double jeopardy by guaranteeing you do not have to testify against yourself in court. Armstrong faced the FDA investigation at the time he considered asserting his right.
Regarding the Fifth Amendment, the memorandum order stated: "Armstrong has failed to identify any factors 'which may weigh in favour of denying immediate public access'."
Related links
UCI accepts USADA ruling and strips Armstrong of Tour titles
USADA's Armstrong doping report in brief
UCI responds to USADA Armstrong doping evidence
Former Armstrong team-mate Barry: 'Doping had become an epidemic problem
Hincapie admits to doping during career
USADA strips Lance Armstrong of seven Tour titles
Lance Armstrong to be stripped of his seven Tour titles
Judge dismisses Armstrong lawsuit against USADA
LeMond suggests changes need to be made to drug testing and UCI
Vaughters denies that Garmin team riders will be suspended by USADA
Armstrong attacks USADA for opening formal action against him
Armstrong banned from triathlons as new doping charge brought against him
February 4 2012: Armstrong holds off the law
Armstrong case dropped by US investigators
Armstrong investigation arrives in Europe
Armstrong's team mate Popovych testifies he did not witness doping
Armstrong's team-mate Popovych summonsed in doping investigation
Landis admits he doped and implicates others
Lance Armstrong: Rider profile
Thank you for reading 10 articles this month* Join now for unlimited access
Enjoy your first month for just £1 / $1 / €1
*Read 5 free articles per month without a subscription
Join now for unlimited access
Try first month for just £1 / $1 / €1
Gregor Brown is an experienced cycling journalist, based in Florence, Italy. He has covered races all over the world for over a decade - following the Giro, Tour de France, and every major race since 2006. His love of cycling began with freestyle and BMX, before the 1998 Tour de France led him to a deep appreciation of the road racing season.