Andy Schleck's bike shop finally opens and he'll be working there full time
Andy Schleck - the 2010 Tour de France winner who retired in 2014 - finally opened his bike shop/museum in Itzig on Friday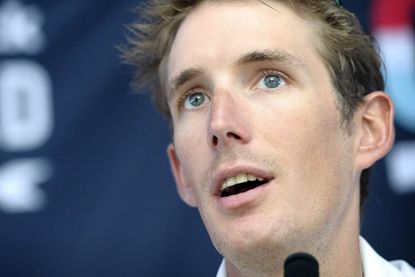 (Image credit: Graham Watson)
Andy Schleck's bike shop opened in on Friday, which he will run with his father-in-law Jeannot Delvaux in a renovated barn in Itzig, just outside Luxembourg City.
Schleck's shop will stock just three bike brands (his former employers Trek, as well as Cervelo and Focus) and three clothing brands (Craft, Bontrager and Castelli), but the shop will also include a small exhibition space with souvenirs from Schleck's career and a cafe.
The Luxemburger even has plans to open a children's bike school, to encourage young cycling talent, and Schleck is excited about the prospect of finally running his own bike shop, an idea he first revealed last year.
>>> What Andy Schleck did next
"My goal is to share my experience and my bike love with all my clients," Schleck said, quoted in La Meuse. "I will be at the store every day, this is my new full-time job. I look forward to welcoming the first customers."
"We are targeting as many customers as possible," he added, according to La Republicain Lorrain. "We sell both bikes for the children of city bikes, electric bikes, mountain bikes and racing bikes.
"We also offer payment facilities over three years for enthusiasts who want to run high performance bicycles, but can not spend so much money at one time."
>>> Andy Schleck abandons 2014 Tour de France
"There are bikes in all price ranges. The first racing bike is €560 (£436). Conversely, I also have the bike that Frank, my brother, rides currently. His price? €13,000 (£10,100). This is a bike designed to gain enormously in aerodynamics."
The shop even boasts a machine, usually reserved for pros, that analyses riding styles to optimise each bike for its owner.
"The unit is equipped with cameras connected to a computer," Schleck said. "It calculates the best position that corporal angles. We can thus choose and adjust the saddle, handlebars and pedals to get more power in maximum comfort."
Schleck was awarded the 2010 Tour de France when Alberto Contador's results between July 2010 and February 2012 were voided after he tested positive for clenbuterol during the 2010 Tour.
The Luxemburger was forced to retire at the age of 29 in 2014 due to a persistent knee injury, having not won a race in more than three years, with his last victory coming on stage 18 of the 2011 Tour de France, when he famously attacked more than 60km from the finish to win on the Col du Galibier.
Thank you for reading 20 articles this month* Join now for unlimited access
Enjoy your first month for just £1 / $1 / €1
*Read 5 free articles per month without a subscription
Join now for unlimited access
Try first month for just £1 / $1 / €1