ASTANA PAY AN EVER HIGHER PRICE FOR DOPING CASES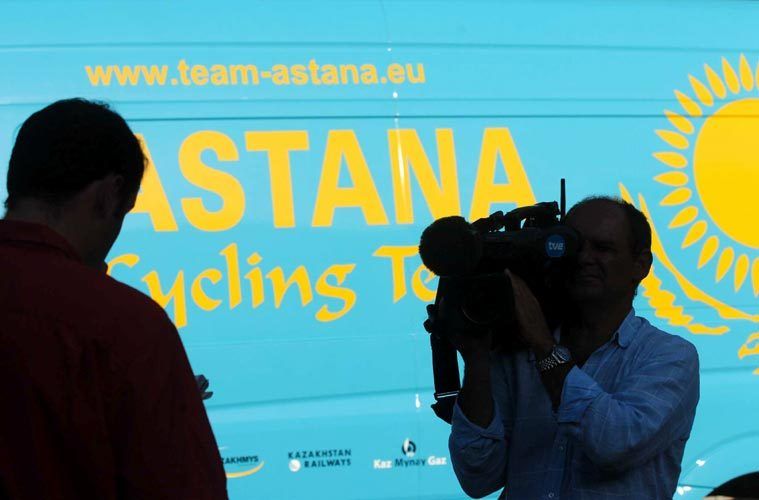 Can it get any worse for Astana?
RCS, the company that organises the Giro d?Italia has left the Kazakh-sponsored squad off the list of invitations for two other early season races, Tirreno-Adriatico and Milan-San Remo.
It means Andreas Klöden will be unable to defend his title at Tirreno-Adriatico next month.
And with Astana also barred from all races run by the French company ASO ? including Paris-Nice ? it means a lot of Astana riders will be sitting on the sidelines in March.
Johan Bruyneel has a big roster of riders at his disposal ? 30 of them ? and some big gaps in the race calendar.
Eligible for only one Grand Tour, the Vuelta a Espana in August, and out of the Classics organised by ASO and RCS, it?s looking grim.
And there have to doubts over the team?s participation in other races ? particularly the Tour of Lombardy at the end of the season, also run by RCS.
And with the Tour of Germany having been bought by a French company, Group Lagadère, that holds a large stake in ASO, there must be doubts over their participation there too ? particularly given the strength of anti-doping feeling in Germany among fans and media.
After all, would the Tour of Germany have allowed Astana to start last year had the team not undertaken a self-imposed month-long time-out in August?
Unless there is a dramatic change of heart, Astana are facing a wafer-thin racing programme in 2008.
What is clear is that the sins of 2007 caused by men wearing pale blue under the banner of Astana have cast a long shadow.
Bruyneel will continue to protest that the team is different, that Alexandre Vinokourov, Andrey Kashechkin, Matthias Kessler and Eddy Mazzoleni ? the men who brought the team?s name into disrepute ? have all been sacked.
But just a year ago, Bruyneel was the man who bloody-mindedly signed Ivan Basso for Discovery Channel ? a monumental error of judgement.
Could it be that he too is paying the price for that decision?
So where does the team go now? Already Levi Leipheimer and Alberto Contador have campaigns to lobby Christian Prudhomme to reverse ASO's decision.
But Prudhomme has been clever in achieving his aim ? barring the team, not individuals. Were riders to leave Astana and find places elsewhere, which is a difficult task now the season is underway, they would be allowed to ride the Tour and other ASO races.
What is telling, though, is there are not main voices from the peloton speaking out in support of Astana. There is no rallying call from other team managers. It could be that they don't wish to align with the outcasts and jeopardise their own places, but it could also mean that they're content to see Astana take their medicine.
Major races where Astana will not be competing this year
MARCH
8 Monte Paschi Eroica (Italy) RCS
9-16 Paris-Nice (France) ASO
12-18 Tirreno-Adriatico (Italy) RCS
22 Milan-San Remo (Italy) RCS
29-30 Criterium International (France) RCS
APRIL
13 Paris-Roubaix (France) ASO
23 Flèche Wallonne (Belgium) ASO
27 Liège-Bastogne-Liège (Belgium) ASO
MAY
10-June 1 Giro d?Italia (Italy) RCS
JULY
5-27 Tour de France (France) ASO
OCTOBER
12 Paris-Tours (France) ASO
In doubt 18 Tour of Lombardy (Italy) RCS