Bad weather and software bug blamed for another Limits power meter delay
Tropical storms in South East Asia and a problem with the firmware are the reasons for the latest delay with Limits power meter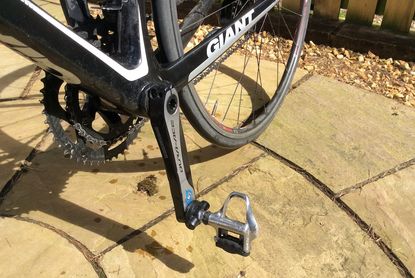 A typhoon and a software bug are all that stand in the way of Limits Technology delivering the "world's smartest power meter" to the cyclists who've funded it, says the company's boss.
Already nine months late, UK backers will have to wait at least one more week before the Scottish company, which raised $533,695 on Indiegogo in May 2015, fulfils its promises.
"There's an obligation morally to deliver what people have paid for," says a contrite Gordon Drummond, chief operating officer at Limits Technology, when confronted by Cycling Weekly with complaints from angry backers who have lost faith as delivery pledges have been broken repeatedly.
>>> From May: Limits customers to get power meters 'by end of June'
Thousands of cyclists worldwide paid up to $289 for each unit - a very low price for a power meter but very costly if it doesn't arrive or doesn't work.
The latest delay was announced three weeks ago when Limits admitted cadence data was flawed. Drummond says the problem is now resolved - almost.
"We've fixed the firmware over the weekend and we'll be using 10 units this week to confirm the fix," says Drummond. "Then we'll upgrade the firmware in the 200 units we have here so they can be sent out for delivery."
>>> Revealed: Limits power meter put to the test for the first time
The despatch of more power meters will depend on the weather in south-east Asia, where they are made.
Drummond says a tropical storm, Typhoon Nida, has delayed a cargo flight from Hong Kong that was scheduled to bring another 500 units to the UK.
"That's now dying down so, with luck, they'll be here by Friday," he says.
The company expects to have the entire production run ready for despatch worldwide by the end of August. Backers in countries outside the UK would get them by mid-September - if there are no more problems.
>>> Power meters: Everything you need to know
Despite its history of over-optimistic promises and a mauling in social media, Limits Technology is already looking ahead.
"There are other products based on the power meter we'd like to do but we will have to have a recovery period afterwards and go through some exercises," says Drummond.
"If we were to do this again we'd have given ourselves a longer schedule."
Max Glaskin is an award-winning freelance journalist who tweets about cycling and science as @CyclingScience1.
He is author of Cycling Science (published by Frances Lincoln UK, Chicago University Press USA, and seven other languages).
Thank you for reading 20 articles this month* Join now for unlimited access
Enjoy your first month for just £1 / $1 / €1
*Read 5 free articles per month without a subscription
Join now for unlimited access
Try first month for just £1 / $1 / €1