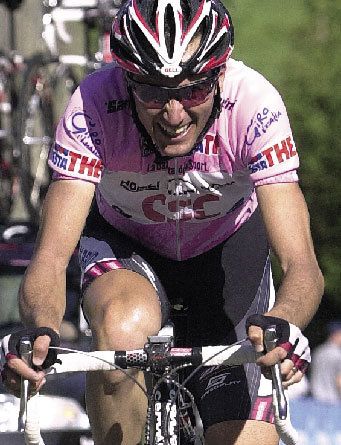 After months of uncertainty, CSC have today announced that Ivan Basso is to leave the team. The statement, sent out this morning by the team said:
Team CSC and Ivan Basso have decided to terminate their contract by mutual agreement.

"After all that has happened, especially this summer, Team CSC and Ivan Basso have agreed to part ways. It has been a very difficult decision, but both parties agree it is time to move on. We would like to take this opportunity to thank Ivan for his time with the team and for the great results he and the team have achieved together. At the same time, we wish him all the best for the future,? says Bjarne Riis.
Basso's close relationship with team boss Bjarne Riis (Riis trained and managed Basso) took a turn for the worse when the Italian's name was linked to the Spanish Operacion Puerto in the days before this year's Tour de France.
Giro d'Italia winner Basso was pulled out of the Tour team as per the ProTour code of ethics, and the team immediately distanced themselves from the rider. Basso has recently been cleared by the Itailan Olympic Commission (despite the Union Cycliste International warning all governing bodies not to close investigations as more evidence is likely to come out) in time for last Saturday's (Oct 14) Tour of Lombardy, but Riis didn't let Basso start.
Early this week, Basso, who wages are around ?1.6m a year, announced he'd like to stay with CSC following widespread rumours that he was being courted by Discovery Channel. The statement today will fuel the transfer speculation, although the UCI are believed to be putting pressure on teams not to sign the Italian.
Thank you for reading 20 articles this month* Join now for unlimited access
Enjoy your first month for just £1 / $1 / €1
*Read 5 free articles per month without a subscription
Join now for unlimited access
Try first month for just £1 / $1 / €1