BBC's The Apprentice hits the cycling market, with the usual catalogue of mishaps
The teams of budding entrepreneurs take on the marketing and crowdfunding of cycling products in BBC series The Apprentice, fronted by cycling fan Lord Sugar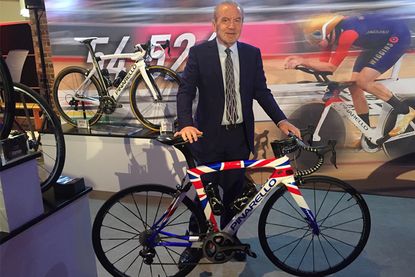 Cycling fan Lord Alan Sugar looked at home in the Lee Valley Velodrome in the opening sequence of BBC television series The Apprentice on Thursday evening. Lord Sugar briefed the two teams of entrepreneurs to market and crowdfund a cycling product, something which is close to the heart of the cycling-mad businessman.
Rather than coming up with their own cycling products for the task, the two teams chose from existing products that needed funding and marketing.
One team picked a casual gilet with in-built LED lights, and the other chose bone-conductive earphones that leave the wearer able to hear what is going on around them while cycling and listening to music.
Of course, it wouldn't be The Apprentice without the candidates having the opportunity to make poorly-conceived decisions and have blazing rows about who had the best idea, and this came in the shape of creating a PR stunt to be filmed for each team's product to 'create a social buzz'.
>>> Lord Sugar: The Big Interview
The LED gilet team's initial idea for their PR stunt was to have riders miming that they were in traffic, one wearing the gilet and one not. The one without the gilet on would get hit by a car, while the gilet wearer continued in safety. The leader of the team seemed oblivious to the connotations of such a performance. Or how ridiculous it would look.
However, the biggest blunder was the team's misspelling of gilet on its crowdfunding website, which team member Trishna Thakrar asserted was spelt 'gillet'. Lord Sugar – who owns a fleet of Pinarello road bikes – berated the team back in the boardroom and pointed out that the misspelt word means 'loose woman'.
The earphone team's video of gospel singers singing a song about the product was so poorly filmed you could barely see the singers, which led Lord Sugar to say: "If that's what you call going viral, I think the virus must have been sleeping sickness".
The teams then later had to pitch their products to the cycling industry, to try and secure some sales. Cue more cringe-worthy moments, including one of the would-be apprentices telling the cycling industry how their industry works, to raised eyebrows.
In the end, the LED gilet gained pledges of £788 in its 24 hours of crowdfunding over the earphone's £681, which led to the earphone team leader JD O'Brien getting the pointy finger from Lord Sugar and undertaking the walk of shame with their rolly suitcase to the waiting taxi outside.
You can watch the whole episode on BBC iPlayer now.
The 12-part 2016 series will conclude with the winning contestant being handed £250,000 to invest in their business.
Thank you for reading 5 articles this month* Join now for unlimited access
Enjoy your first month for just £1 / $1 / €1
*Read 5 free articles per month without a subscription
Join now for unlimited access
Try first month for just £1 / $1 / €1