BEAUMONT TROPHY START LIST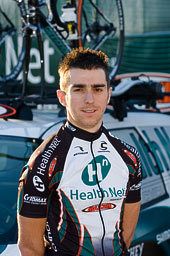 Former National Champion Russell Downing (Health Net/Maxxis) heads the field at this Sunday's Premier Calendar round in Northumberland - the Beaumont Trophy.
One thing is for certain, this round will define who leads the 2007 series. Currently, Chris Newton (Recycling.co.uk) and Russell's brother, Dean Downing (Rapha Condor) jointly head the series' point table. With both riders on the start line, one has to come out on top.
A large field of 99 riders will traverse the 170-kilometre event, starting and finishing from the village of Stamfordham. You can view a detailed map of the course here.
This is the first season that the Beaumont Trophy has been part of British Cycling's Premier Calnedar series, the UK's top-level race series.
For a report and results from the event, log on to www.cyclingweekly.com on Sunday evening.
Event website: http://www.northernrockcyclone.co.uk/Beaumonttrophy.asp
British Cycling Premier Calendar Round 6: Beaumont Trophy
Sunday, June 17 2007
Team/race number/rider/category
Health Net/Maxxis
1 Russell Downing Elite
Plowman Craven/Evans Cycles RT
2 James Taylor Elite
3 James Millard Elite
4 Gordon McCauley Elite
5 Frederik Johansson Elite
6 Jason Allen Elite
7 Brian Biggs Elite
8 Simon Gaywood Elite
Rapha Condor RT
9 Dean Downing Elite
10 Ross Muir Elite
11 Matt Talbot Elite
12 Richard Wilkinson Elite
ScienceInSport-Trek
13 Ian Wilkinson Elite
14 Dave Collins Elite
15 Matthew Cronshaw Elite
16 Philip Dixon Elite
18 Richard Kent 1
19 Jack Woodward 1
105 Ian Bibby 1
Recycling.co.uk RT
20 Chris Newton Elite
21 Shaun Snodden Elite
22 Graham Briggs Elite
23 Ryan Bonser Elite
24 Adam Bonser Elite
25 Tom Diggle Elite
26 Simon Holt Elite
27 Matt Rowe Elite
Pinarello RT
28 Malcom Elliott Elite
29 Adrian Timmis 1
30 Kevin Dawson Elite
31 Andy Roche Elite
32 Lee Davis Elite
33 Andy Collis 1
Kinesis UK
34 Pete Williams Elite
35 James Sampson 1
36 Tom Murray 1
37 Mark Thwaites 2
Glendene CC/Bike Trax
38 Richard Sykes-Popham 1
39 Ben Thompson 2
40 Steven Griffiths 2
41 Kristian Downs 2
K.F.S. SpecialVehicles/Sunday Bicycles
42 Robin Sharman Elite
43 Dafydd Dylan Elite
44 Gary Hand Elite
45 Gareth Hewitt Elite
46 Greg Roche Elite
47 James Stewart Elite
Merlin RT
48 Tom Barras Elite
49 Tom Smith Elite
50 Liam Holoham 1
51 Jon Mozley Elite
100% ME
52 Alex Dowsett Elite
Middridge CRT
53 Marcin Bialoblocki Elite
Sigmasport RT
54 Matthew Stephens Elite
55 Mike Harrison 1
Bike&Run London
56 Dan Staite Elite
57 Alex Higham Elite
58 Ben Pochee 1
107 Henry Furniss Elite
Team Corley Cycles
59 Roy Chamberlain Elite
60 Matthew Higgins Elite
61 Richard Cartland 1
Inkland MTS CRT
62 Matthew Kipling Elite
63 Richard King 1
64 Steve Gibson 1
East Kilbride RC
65 Gordon Murdoch 1
Ashfield RC
66 Andrew Stuart 1
67 Scot Gamble 1
68 Owain Lovell 2
Velo Ecosse/Montpeliers
69 Stuart McGregor 1
70 Owen Jeffries 2
ABC Centreville CC
71 Neil Swithenbank 1
Wills Wheels CC
72 James Williamson Elite
New Brighton CC
73 John Charlesworth 1
Andersons Racing
74 Bryan Pool 1
FP Mailing CT
75 Stephen Rudkin 1
York Cycleworks
76 Alastair Kay 1
Dunfermline CC
77 Ray Wilson 1
JE James RT
78 Mark Wordsworth Elite
Cleveland Wheelers CC
79 Lewis Meadows 1
80 Marcus Smith 2
www.keswickbikes.co.uk
81 Alistair Robinson 2
Zipp
82 Phil Axe 1
GS Metro
83 Michael Mallen 2
West Pennine RC
84 Peter Hey 2
Gosforth RC
85 Chris Bush 2
Doncaster Wheelers
86 Adam Weaver 1
MTS Cycle Sport
87 James Moss 2
Hope Factory Racing
88 Paul Oldham 1
US Montoban 82/Adisko-Viner-TV
89 Adam Biggs Elite
CordManager.com
90 Dieter Droger 1
Usher I RC
91 Peter Hawkins 1
Velo Sportif Quimper
92 Richard Williamson 1
Star Bikes RT
93 Chris Daddy 1
Team Isle of Man
94 Graeme Hatcher 2
White Knight RC
95 Peter Hinchliffe 1
Private Member
96 Neil Jones 1
97 Martin Ford 1
98 Adrian Bloor 2
Star Bikes RT
99 Stephen Ward Elite
Team Discovery Channel
100 Steve Cummings Elite
Sportscover
101 Ashley Brown 1
102 Wayne Randle 2
103 John Tanner 1
104 Mark Lovatt Elite
East Kilbride RC
106 Paul McInally 2