Blind people fear going out in London due to cyclists
Charity says there is an increase in number of blind or visually-impaired Londoners calling its helpline to report incidents involving cyclists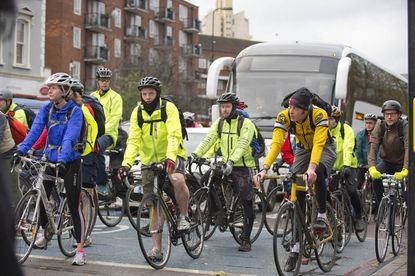 Pavement-riding cyclists in London are preventing blind and visually-impaired people from going out due to the fear of being hit.
Charity Guide Dogs for the Blind Association has said that the number of reports that it has received regarding incidents involving cyclists has increased.
It says that people riding bikes on pavements, in particular to avoid red lights at junctions, are posing a risk to pedestrians, and in particular to blind people.
Guide dog owner Deborah Persaud of Islington was one of those who has been hit by a cyclist: "I was walking home from the tube station with my guide dog. I was halfway along the road when I was struck by a cyclist coming towards me on the pavement. My dress was torn, the contents of my handbag damaged and I was left with damage to my shoulder and hip."
London Cycling Campaign Charlie Lloyd said: "People riding bikes in London have a duty of care to look out for every other road user. Any crash or a close pass which frightens or intimidates a pedestrian is unacceptable. Far worse when that person is blind, partially sighted or in any was less able than we are."
Guide Dogs has launched a 'Cycle Eyes' campaign to ask cyclists to be more aware of blind and partially sighted pedestrians. It asks cyclists to follow its five-point guide:
Pay attention – look to see if the guide dog and owner, or person with a cane are waiting to cross. Remember that they can't always see or hear you.
If you see the guide dog and owner or person with a cane waiting to cross, use your bell or call out to let them know you're there.
If the guide dog and owner or cane user are already crossing the road, please stop and wait until they've reached the other side.
Do not cycle up behind or around the guide dog and owner, no matter how much space you think you've given them. The dog may be startled and get confused.
If you need to use the pavement for any reason, please dismount. Bumping off the kerb onto the road can scare and confuse the guide dog.
https://www.youtube.com/watch?v=b_7EEJBNoWU
Thank you for reading 20 articles this month* Join now for unlimited access
Enjoy your first month for just £1 / $1 / €1
*Read 5 free articles per month without a subscription
Join now for unlimited access
Try first month for just £1 / $1 / €1