Britain's Best Bike Mechanic in association with Park Tool: The result
The final of Britain's Best Bike Mechanic in association with Park Tool took place at the Cytech Training Centre in Oxford on Friday September 7th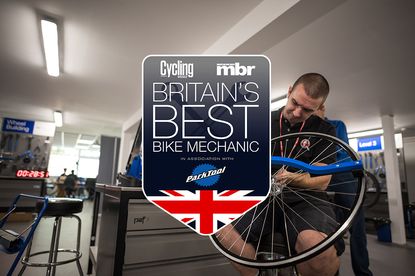 Mechanics are the often-referred-to 'beating heart of the local bike shop' — or, as we like to say these days IBD (independent bike dealer). Multitaskers who are playing a significant role in doing for the industry exactly what they'll do for your bike if you ask them nicely — keep it ticking over.
There are a lot of good road bike mechanics in Britain, but the best? Find out in the video below.
In June this year we launched a campaign with Park Tool to find and recognise Britain's Best Bike Mechanics. The first phase was a public vote and we were very excited to receive over 2900 votes for over 300 different mechanics proving the important role they play in our industry.
The mechanics who received the most votes formed a shortlist of 10 and we sent those mechanics a #BBBM2018 application form with scenario based questions which we then used to select our finalists.
So our three finalists were not only voted for by the public, but we were impressed by their answers to our knowledge based questioning as well.
We hosted the final at the Cytech Training Centre in Oxford where the finalists had to complete a number of tasks including a rear wheel build, internal cable replacement and bar taping under time pressure whilst getting filmed, photographed and questioned by are panel of judges.
The judging panel consisted of British Cycling's head mechanic Mark Ingham, Park Tool's Director of Education Calvin Jones and Cytech Head Trainer Julian Thrasher.
Britain's best Bike Mechanic - The Cycling Weekly winner
Scott Jones | Mickey Cranks
Scott was awarded the coveted BBBM2018 trophy and a £250 voucher to spend on Park tool products. But more importantly he can now call himself 'Britain's Best Bike Mechanic'.
Scott was nominated by dozens of very happy customers for our Britain's Best Bike Mechanic competition and, having got through to the finals stage, went up against two other road mechanics in a timed and judged contest. His steady hand and a cool nerve impressed the judges, and he emerged as the sharpest tool in the box.
"I am absolutely chuffed to bits," he said after being given his winner's award. "I didn't want to get my hopes up as I didn't want to get disappointed — I just went out there, did what I do best essentially, tried as hard as I could."
Having grown up "taking stuff apart, putting it back together" Jones eventually found himself a job at Williams Cycles in Cheltenham, and found his vocation in the workshop, before ultimately moving to Mickey Cranks four years ago.
"It's kind of a hobby turned into a living. I don't know what I'd be doing if I wasn't doing this," he says. "It's being around bikes. If you like bikes and you're around bikes, that's it. At the end of every job you get good job satisfaction."
Wheelbuilding, which Jones describes as a lost art, is his favourite task, he says: "You're building something from scratch... it's cool; sit down, put some music on, zone out."
The old image of the mechanic — a grimy figure in dirty overalls presiding over a chaotic backroom — is almost forgotten in today's modern IBD, where the workshop is often out front as an extension of the shop floor. Mickey Cranks's own workshop is the perfect example — everything in its right place and surfaces clean enough to eat your dinner off. And bringing it out front increases customer contact with the mechanic and reinforces that 'heart of the shop' status.
"I think for a local bike shop the workshop and the mechanic are massively important," says Jones. "I was always taught that if you change shop, you could potentially be taking customers with you, because you end up building relationships with those customers."
Calvin Jones (no relation), head of education at Park Tool and one of the competition judges, adds: "You went in the back room in 1972, and it was the same discussions," he says, referring to his early years as a bike mechanic. "Now all of a sudden it's out of the back room. That's always been going on — the heart of the bike shop is the service department."
Scott Jones says: "It's great when customers come in and they want to get into it, and they're really interested... when people pick up a bike you've worked on and they're just like, 'Ah yeah, this is brilliant.' I love the customer service."
Of his namesake's finals performance, Calvin Jones says: "He was done and you can see that relaxed look... he was confident, and steady."
Fellow judge Mark Ingham of British Cycling points out: "His wheelbuilding skills were very good… his gearshifting was good, he seemed to have a methodical way of going about the process, the whole package was good."
And Jones's customers love him. That's easy to see from the number that voted him into our finals.
The high street's dead? Long live the high street!
The Runners Up
Theo Tanner | Pedal Heaven
Years of service at shop: Six and a half years! 16 in the trade
Favourite tool on the tool board: My T handle Hex key set!
What music do you have on in the workshop: A good mix of 80's, Jazz and Classical !
What was your first bike: The first bike I owned and learnt to ride on was built out of old bikes by my father. It had 24" Wheels, was sprayed gold and had Cateye stickers all over it!
Rikki Pankhurst | Pankhurst Cycles
Years of service at shop: I have been in our new shop now for nearly four years.
Favourite tool on the tool board: "Big Bessy" the cotter pin press is my favourite tool.
What music do you have on in the workshop: We Listen to a varied choice of music from Metal to Puccini, but mostly Metal!
What was your first bike: My first bike was an Elswick Hopper!
At Cycling Weekly we want to extend a huge congratulations to our finalists and it is pleasing to see that the industry is in good hands.
Thank you for reading 20 articles this month* Join now for unlimited access
Enjoy your first month for just £1 / $1 / €1
*Read 5 free articles per month without a subscription
Join now for unlimited access
Try first month for just £1 / $1 / €1