Bruyneel dismisses 'suspicious syringes' claim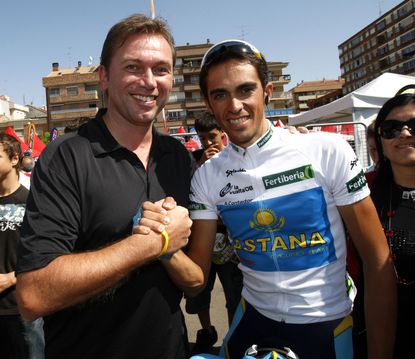 Johan Bruyneel today brushed aside allegations that the Astana team under his control at this year's Tour de France discarded 'suspicious syringes' during the race.
Investigators in Paris have apparently begun preliminary investigations after the discovery of several 'suspicious syringes' supposedly found in containers given to the teams during the race for the safe disposal of medical waste.
"I don't have any answers because I don't know anything about the case," a visibly ruffled Bruyneel commented at the unveiling of next year's Tour de France route today in Paris.
"I'm confident that our team has been racing clean. We just have to deal with it and get on with it."
Astana issued an equally dismissive statement last night: "Astana is surprised to read in the French press that the team is involved in an investigation by French prosecutors into doping. These media reports are the first we as a team have heard of an investigation. According to the press articles, the investigation involves a number of cycling teams having participated in the 2009 Tour de France.
"The Astana team has nothing to hide, the riders use no forbidden substances, the team is confident in the result of analyses performed or to be performed by a Parisian laboratory and is prepared to cooperate".
Astana won this year's Tour de France with Alberto Contador whilst fellow team-mate Lance Armstrong was third.
Thank you for reading 20 articles this month* Join now for unlimited access
Enjoy your first month for just £1 / $1 / €1
*Read 5 free articles per month without a subscription
Join now for unlimited access
Try first month for just £1 / $1 / €1