Can Ford's VR technology help to improve cyclists' safety?
Car manufacturer hopes to improve UK cycle safety through Share The Road campaign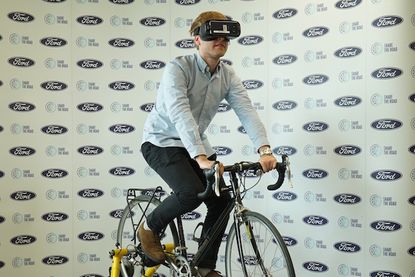 (Image credit: David Williams)
Get The Leadout Newsletter
The latest race content, interviews, features, reviews and expert buying guides, direct to your inbox!
Thank you for signing up to The Pick. You will receive a verification email shortly.
There was a problem. Please refresh the page and try again.
As part of its recently launched Share The Road campaign, Ford unveiled its virtual reality tool, WheelSwap, designed to improve cycle safety by increasing empathy between motorists and cyclists, and change behaviour in urban traffic.
Share The Road aims to breed empathy between motorists and cyclists, in order to change behaviour in urban traffic in the UK. Users of WheelSwap VR tool can watch two types of three-minute footage – one from a cyclist's perspective and the other through the eyes of a motorist – showing various common hazards encountered while on the move.
For example while car drivers experience cyclists darting up on their inside lane, cyclists experience vehicles suddenly pulling out to join the traffic, and see how they can avoid such incidents.
According to Ford, feedback on the VR tool has been positive and initial research carried out on a sample of 1200 users showed that 90% of them would commit to behaving more safely than they did before using WheelSwap, while 60% said they have actually changed their behaviour as a result of viewing the footage.
>>> US state considers new law to allow cyclists to ride through red lights to improve safety
Emmanuel Lubrani, senior manager of consumer and social media at Ford Europe explaining the rationale behind WheelSwap said, "We did research and what you see on the VR is what people were consistently complaining about on Twitter, on YouTube, and on online groups."
As a regular cycle commuter in London, Lubrani is all too familiar with these situations on the road too, and is keen to see as many people as possible experience this tool. "This campaign is just the start. We have consumer events during Bike Week, and at The Goodwood Festival of Speed in which we would like as many people as possible to try the WheelSwap VR kit."
Ford is keen to express that the Share The Road campaign is not about blaming cyclists or drivers. It recognises that all road users can be impatient, behaving badly, and this campaign is around being mindful, and promoting mutual understanding. The WheelSwap VR experience will be incorporated into Driving Skills for Life, a training programme for young drivers.
Team Sky are working with Ford on the Share The Road campaign and will be involved in staging events for people to try out WheelSwap at cycling events, including during the Tour de France. Servais Knaven, sports at Team Sky said, "I think it's a really good thing to show something from a bike rider's perspective for the car drivers who haven't been on a bike before. I think the key thing is the awareness of bike riders especially when I think how vulnerable bike riders are."
It is common knowledge that cycling in Britain is on the increase – between 2006 and 2016 there was a 23% increase in the number of cycling miles ridden. Furthermore, the number of people who cycled in Central London in 2015 was 39,000, compared with 10,000 in 1996.
A surge in cycling on roads in the UK has led to a greater probability of accidents between cyclists and motorists. Indeed, figures show that in 2016 there were around 18,500 cyclists injured, with around 3,500 cyclists seriously injured or killed – a 5% increase compared with 2015. Most fatal accidents occurred in urban areas.
Something therefore needs to be done to reduce the number of serious accidents. Road safety charity Brake believes that a good cycling infrastructure needs to be developed with safe speed limits, and cyclist-friendly vehicle technology, but it also emphasises a need for improved road awareness and personal responsibility.
>>> Virtual reality headsets could make people 40 per cent more likely to take up cycling
This is also underlined by behavioural experts. Dr David Purves, Clinical Director of the Berkshire Psychology Service explained, "We are programmed to drive on autopilot and accelerate. What the WheelSwap can do is it gives motorists an opportunity to get into the mindset of a cyclist and give them that insight, and take responsibility for themselves. That way it changes their automatic processes and adds a little bit more mindfulness to their ongoing driving."
Different initiatives over the years have been implemented to address the behavioural aspect of road safety, notably Exchanging Places, a programme introduced by the Metropolitan Police, which involves cyclists and truck drivers swapping places and experiencing what it is like for their opposite number when travelling in city traffic.
These events do not use VR, but they have a similar effect by giving the cyclist an opportunity to sit in the cab of a truck, and for a truck driver to ride a bicycle and recognise the different viewpoints and blindspots.
Exchanging Places is also aiming for an overall outcome of achieving greater empathy between different road users – something which is key in fostering greater awareness, and ultimately a lowering of the number of accidents.
Other initiatives using VR with different forms of footage are available across the UK and Europe, such as CycleSPEX or VR training tool used by South Gloucestershire Council.
Since, the number of serious accidents between cyclists and vehicles in the UK has not reduced significantly in recent years it is clear that more needs to be done.
Could Ford's Share The Road campaign be the catalytic converter that reverses this toxic trend? Servais Knaven, when comparing cycling in the UK with cycling in his native Holland said, "In Holland it's less risky for a bike rider because it's natural to be aware of bike riders as there are so many. So you always know there could be a bike rider from the left or from the right. I think in the UK you are really starting to have a lot of cyclists. But it is still not the same amount of bike riders as in Holland. A VR tool is useful to get to the safety level of France, Italy or Germany, but I think it would be difficult to be comparable to Holland because cycling is pretty exceptional there."
Vicky Lebrec who, in 2014, survived a collision with a truck that was turning left in London, found WheelSwap useful, "I think it's good. I think empathy is a big thing, because there's a lot of 'us versus them' and that doesn't help anyone. If there was a 60% behaviour change that would be amazing."
Lebrec, who lost her left leg in the accident, but still advocates cycling, is keen to stress that improving empathy between cyclists and motorists is not the only solution, and other aspects of improving cyclist safety shouldn't be neglected. "I think alongside cyclist engagement there has to be a really big focus on infrastructure and the vehicles themselves.
>>> Cut speed limits, fix potholes, and give priority to bikes to improve cycling safety, London mayor told
"If we are putting the onus on the road users, we are taking the onus away from the government, people that are in charge of infrastructure, and also the companies that should be putting enough safety features on their vehicles. I think there is still work to be done in improving this [cyclist safety], and I think we still need input from the government."
It is clear that improving overall safety on the road requires a multi-faceted approach – personal responsibility and behaviour, safer vehicles, lower speed limits, and better infrastructure – something that was highlighted by Josh Harris, director of campaigns at Brake.
Ford is definitely addressing the behavioural change part of the equation, and it remains to be seen if the 60% behavioural change really does translate into a perceived improvement in safety. In the meantime the Share The Road campaign could be seen as a move in the right direction while improved infrastructure and safer vehicles continue to be developed.
Thank you for reading 20 articles this month* Join now for unlimited access
Enjoy your first month for just £1 / $1 / €1
*Read 5 free articles per month without a subscription
Join now for unlimited access
Try first month for just £1 / $1 / €1
Get The Leadout Newsletter
The latest race content, interviews, features, reviews and expert buying guides, direct to your inbox!