Cannondale-Garmin's new 28-year-old signing has only raced for three years
Former middle-distance runner Mike Woods, 28, signs a two-year contract with WorldTour team Cannondale-Garmin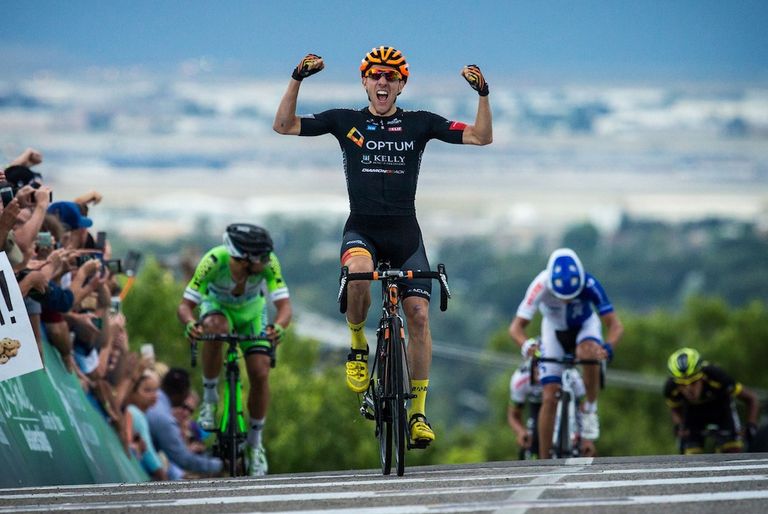 (Image credit: Watson)
If you're in your early 20s and are worried your dream of becoming a professional cyclist may be over, take heart from the story of Canadian Mike Woods, who has signed for Cannondale-Garmin having only ridden competitively for three years.
Woods was a promising middle-distance runner in his youth, setting national junior records in the mile and 1,500m and taking a gold medal in the 2005 Pan-American Junior Athletics Championships.
But a serious foot injury forced him to hang up his spikes in 2007 and Woods turned to cycling instead. Signing for Canadian continental team Garneau - Quebecor in 2013, Woods showed his potential immediately by finishing ninth in the Tour de Beauce.
>>> Ryan Mullen signs for Cannondale-Garmin
Roll the clock forward two years and Woods has taken a stage win and finished second overall at the Tour of Utah behind Cannondale's Joe Dombrowski, who he will likely ride alongside next year.
"Mike is the real deal," said Cannondale-Garmin CEO Jonathan Vaughters. "He runs a 3.57 mile and is a former New Balance-sponsored runner and a junior Pan Am Gold medalist. But one of the things that impressed me most about Mike is the way he earned his way into cycling.
"He wasn't a part of any development team and he got where he is by hard work, camping in his car, and really toughing it out. Once he got the chance to ride for Optum, he was able to ride in some bigger races with smart teammates and directors. I continued to watch him closely.
"He learned how to manoeuvre in the peloton, which is difficult for runners to do, and that convinced me. While he's got a long way to go, I think he could be one of the top Ardennes riders in the world someday. And if he does that, I will be very happy and proud, because he will have earned it the hard way."