Cavendish's lead out man, Eisel confirms HTC allegiance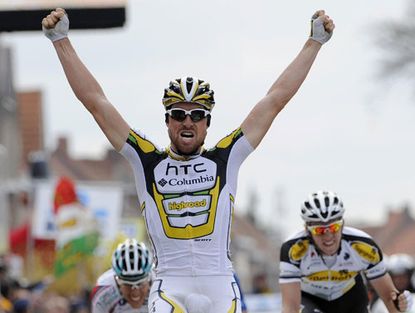 Mark Cavendish can count on Austrian Bernhard Eisel for two more years at HTC-Columbia. Eisel to a new contract that will see him in the American team through 2012, HTC announced today.
"This team is the best because I get the freedom to ride for my own goals in the classics and I enjoy riding for the best sprinter in the world at the Tour de France, which is my second goal each season," said Eisel.
"We have a lot of fun on this team and together we get stronger and stronger each year so I'm happy with that."
Eisel helped Cavendish to five stage wins at the Tour de France last month. His job became harder as the race progressed because the team first lost Adam Hansen and then Mark Renshaw. Eisel became Cavendish's final lead out man for the last two sprints - Bordeaux and Paris - and helped pull them off successfully.
"I'm so lucky to be part of [the team]," said Cavendish after the Paris win, "and so lucky to have those people who give 100% whatever the outcome."
Before the Tour de France, in April, Eisel had his own chance in the northern classics. He won Ghent-Wevelgem and then a week later helped Cavendish in his debut at the Tour of Flanders before finishing 16th.
"Bernie is an integral part of the team and important for us in many ways. We have a long relationship with him and we rely on him as a road captain, where he does a great job of leading by example on and off the road, and as a leader for the classics," said HTC's sports director, Rolf Aldag.
"A diverse rider like Bernie, who has a multifunctional role in the team, is essential."
Eisel, 29, has been in the team since 2007, when Bob Stapleton took over mid-season and the team switched from its T-Mobile name to High Road.
Thank you for reading 20 articles this month* Join now for unlimited access
Enjoy your first month for just £1 / $1 / €1
*Read 5 free articles per month without a subscription
Join now for unlimited access
Try first month for just £1 / $1 / €1