Chris Boardman leads campaign for junction rule change to make cycling safer
Chris Boardman will lead a joint campaign of British Cycling, The AA and pedestrian groups that calls for a change to the Highway Code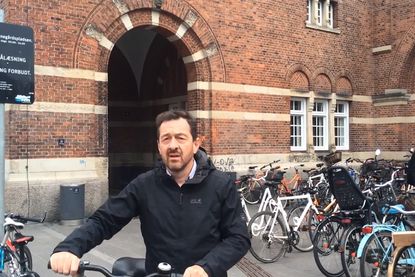 Chris Boardman is to lead a campaign group which aims to consolidate and simplify Highway Code rules in order to make junctions safer.
The group is made up of British Cycling, The AA and pedestrian advocacy organisations with the intended outcome being safer junctions for vulnerable road users.
According to British Cycling, the Highway Code has some gaps and grey areas that need sorting to make roads safer.
>>> Cycle lanes cause problems for road users, says Transport Secretary
The key part of the campaign is a consolidation and strengthening of existing rules in the Highway Code.
This would mean that whether you are driving or cycling, you would be clearly obliged to give way when turning to people who are going straight ahead.
The obligation would be on the turning road user regardless of whether the person going straight on was in a car, on a bike or on foot.
>>> Chris Boardman pokes fun at British government's inadequate cycling strategy
The Highway Code currently has at least 14 rules about junctions and the emphasis changes from rule to rule.
Highlighting Rule 170 as an example, which requires drivers to give way to pedestrians already crossing but with no direct equivalent rule for cyclists, the campaign is looking to cover the gaps in the current guidelines.
The new proposals are based on researched commissioned by British Cycling in the Netherlands, Denmark and Sweden.
In practice, the outcome would see the emphasis and responsibility always placed on the road user with the greater capacity to cause harm, something Boardman has campaigned for previously.
>>> Government's cycling and walking strategy needs funding to be a success, says Chris Boardman
In turn, this means that drivers turning at a junction would give way to people cycling and walking who may be on their nearside, or crossing the road that they're turning into.
Further, cyclists turning at a junction would then give way to people walking who are crossing the road they are turning into.
Both of these measures would mean that pedestrians get increased protection when crossing a side road or other junction.
>>> 'Record' £770million to be spent on cycling in London
At a time when Paris is banning cars from its city centre and drastic action is needed to combat the hazardous air quality in London, these proposals are claimed to help reduce congestion and improve air quality, as well as enhance people's safety.
"The proposals put forward by British Cycling and partner organisations would eliminate confusion, improve efficiency and reduce congestion, while giving cyclists and pedestrians greater protection," Boardman said of the plans, before adding "therefore encouraging more people to take up greener transport options and making our streets healthier."
>>> Cars and lorries to be banned from Bank junction cycle collision blackspot in London
The Olympian-turned-campaigner continued, "Whether driving, cycling or walking, negotiating a junction is the most hazardous manoeuvre you can make on the road.
"A change needs to be made – the rules need to be simple and unambiguous."
Thank you for reading 20 articles this month* Join now for unlimited access
Enjoy your first month for just £1 / $1 / €1
*Read 5 free articles per month without a subscription
Join now for unlimited access
Try first month for just £1 / $1 / €1