Chris Juul-Jensen ready for bumper season after conquering Kilimanjaro
Dane motivated to help Tinkoff-Saxo achieve Grand Tour goals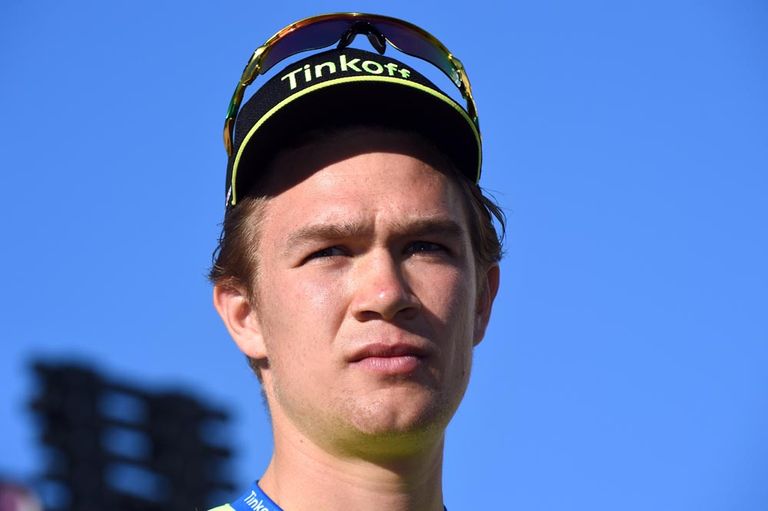 (Image credit: Watson)
Wicklow-born pro Chris Juul-Jensen describes a November Tinkoff-Saxo team camp to the top of Mount Kilimanjaro with captivating shock and awe.
"It was so much fun, in the beginning," he tells Cycling Weekly in Australia. "On the fourth day we got above 4000m and that's where shit started hitting the fan big time. It was so hard. It's impossible to explain the physical stress the body was experiencing, and mentally as well. Everyone was there and we had to help each other but eventually you also started concentrating on just helping yourself.
"I woke up one morning and it looked like I had been stung by a bee," he continues, "I swelled up with fluid because of the pressure. Usually when I wake up I look like I've been hit by a brick but, really, I woke up and was like, 'f--k, my eyes!'
"We've had some good camps the past three years I've been at the team but it hasn't been like survival mode, you know, hardcore."
The 25-year-old, who speaks in an Irish accent but races under a Danish licence, is due to play a pivotal support role to new and old team-mates this season, which, for him, began at the Tour Down Under yesterday. Racing for overall contender Michael Rogers in Adelaide, he is also set to aid three-time maillot vert champion Peter Sagan at the Spring Classics and, most notably, Alberto Contador in his pink jersey campaign at the Giro d'Italia, where Juul-Jensen made his Grand Tour debut last year.
"To be considered in that select group is a nice acknowledgement from the team as to where they see me developing, and also the fact that I proved myself last year," he says. "I was able to show I have the ability to take on those types of races as part of a very strong and ambitious team."
Juul-Jensen was one of 51, from 72, Tinkoff-Saxo employees who reached the top of Africa's highest point, overcoming the elements, untreatable altitude sickness and personal battles to take pictures of the sunrise at 5895m. The camp, in which team founder and former owner Bjarne Riis set the mood, embarking on the endeavour twice, came less than a month after Juul-Jensen finished his 2014 season at the Japan Cup.
"Bjarne did it in four days alone, and then we arrived and he did it in six days with us," he says.
Such "survival" camps have previously been affiliated with Riis's teams serving as a successful form of team building and, in turn, top results. This one, bankrolled by new owner Oleg Tinkov, who did not participate, was no different.
"We got to the top but quickly turned around and just wanted to get down," Juul-Jensen explains. "I forgot I'm still sprinting from 6000m down to 4600m. There I really started getting into trouble. I felt so sick, and had a headache, stumbling down on my own with the sherpa because we were so spread out.
"We got down to the base site and it looked like a refugee camp," he continues. "People were almost hallucinating, just sitting on their own completely dazed. Some were ill and some were fresh, the doctors were running around and people were shouting, 'medic!'. We were trying to help people but you couldn't do anything."
The expedition may not have come at a better time ahead of a season in which two of cycling's biggest names in Sagan and Contador will race for the same team. The multiple stars in one stable recipe has not worked in recent times but Juul-Jensen remembers a relaxed atmosphere, sans egos, at a standard Gran Canaria training camp one month later.
"Doing ordinary team building activities just doesn't compare. This whole social barrier between people you might not know so well completely evaporates, which was really beneficial," Juul-Jensen says.
"I can only speak from the experience of the camps but there doesn't seem to be any conflict of interest."
Tinkov has made no secret of his desire to topple Sky as the Grand Tour team of reference this year making the task that belies Juul-Jensen at the Giro more imperative. If the enthusiastic all-rounder wasn't up for the challenge before Kilimanjaro, he certainly is now.
"If you compare San Remo, or the Stelvio stage [at the 2014 Giro held in freezing temperatures], which were by far the hardest weather wise, just everything sucked sort of experience, then you start to realise that you can push your body a lot further than those experiences during the season," he observes.
"I think it's going to be beneficial to take that into racing, if you can remember what it's like because the human mind quickly forgets everything. That's why we all started the next day after the Stelvio stage. Had we not forgotten we would have said, 'f--k that, I'm not riding my bike again. Ever!
"It shows one of the benefits of Oleg coming on board is being able to offer that to the whole team, not just the riders. The majority of us got to the top and achieved that feeling of doing something as a unit."
Twitter: @SophieSmith86