Cycling's fashion police are banging at your door. What item in your wardrobe is going to land you in trouble?
This week's Big Question concerns your biggest cycling fashion crimes. We ask our readers to suggest theirs. In association with Decathlon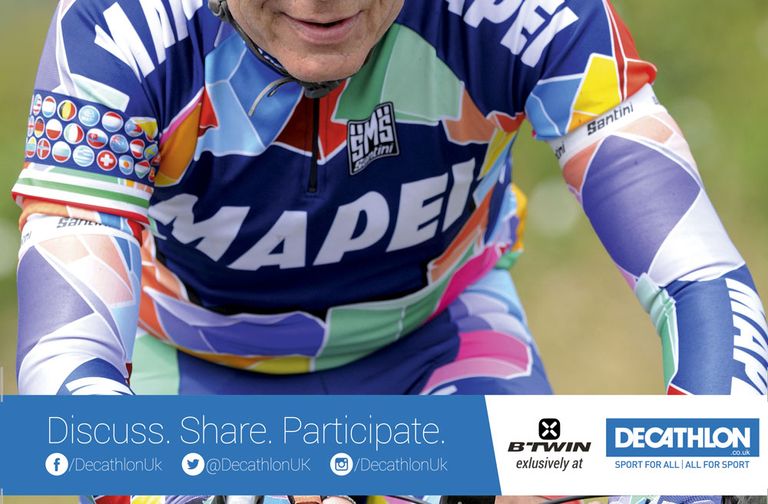 Cycling is almost as much about fashion is about riding. But with that comes a fair share of fashion disasters.
Now, it's each to their own with what every rider wants to wear, but we put it you, the readers, to tell us what you've got in your wardrobe that would land you in trouble with cycling's fashion police. Presented in association with Decathlon.
>>> 11 worst cycling kit blunders
Add your suggestions in the comments section below.
Cycling's fashion police are banging at your door. What item in your wardrobe is going to land you in trouble?
I may, I repeat may, have gone out in a pair of unbranded white cycling shorts with a pair of underpants on underneath. I'm truly sorry...
Dave Rowe
I have some black and white bibtights. I recently saw a photo and realised my partner was right, I really did look like a Power Ranger. Dreadful. And yes, yellow lens glasses, but at least they cut down on glare and brighten everything up a bit on dull days. Oh, finally, when you go to put on your aero shoe covers just before a TT then realise your socks are taller.
Clare Parkholm
My 1980s acrylic West Surrey CTC DA cycling jersey — bulletproof but shapeless and very plain!
Kevin 'Herbie' Blackburn
I wear clear safety goggles instead of shades. I do not like the tinted glasses...
Herman Dormehl
My club shorts. You can see more than you should when on my wheel. I have a Dirty Reiver finisher's badge just about to be sewn in place though.
Grant Young
I'm beginning to feel a little uneasy in white socks!
Nick Soothill
My sleeveless jersey? My son swears he won't ride with me if I put it on.
Jeremy L Palmer
My red knee warmers. What was I thinking? I'd rather have cold knees.
Kal Hodgson
Any top that isn't fluoro lands me in trouble with my wife.
Aidan Mulhall
My Lampre world champion shorts in white. Or my pink Lampre kit in the wet.
David Gardiner
My ankle socks. They're much easier to fit under Velotoze than my usual cycling socks when I'm racing.
Chelsea McCloskey-Lambert
Everything! I wear a red white and black helmet, black and grey shades and ride an electric blue bike. Nothing matches anything on my bike because I feel that cycling should be about the experience and not the aesthetics.
Vishvendra Singh Rana
Any champion's jersey (or maillot jaune, maglia rosa, etc.) you didn't actually win.
Angus Whyte
I actually have a replica (official, not knock-off) US Postal maillot jaune, complete with Armstrong's race
number. Although, to be fair, I've probably ridden more kilometres clean than he has.
Dan Miller