Dan Martin kicks off 2014 season at Tirreno-Adriatico
Garmin-Sharp's Dan Martin sets out his aims for the 2014 season, including the Giro d'Italia's start in Ireland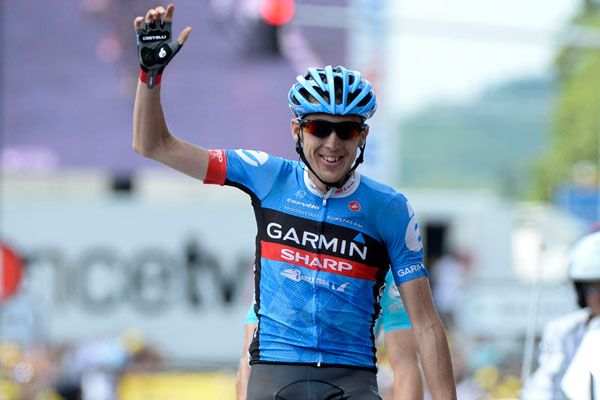 Words by Brian Canty
Ireland's Dan Martin gets his 2014 racing season underway tomorrow at the seven-day Tirreno-Adriatico in Italy (Mar 12-18).
It is only the Garmin-Sharp rider's second time doing the race and after last year's rain-lashed affair where he finished 19th overall, just under eight minutes down on race winner Vincenzo Nibali (Astana Pro Team), Martin said he's under no pressure whatsoever, with his big goal just two months away.
Indeed, the team for Tirreno is built around American Andrew Talansky, but given the significant number of new faces in the team's roster this year – and retirements of Christain Vande Velde and David Zabriskie - Martin's keen to show the new guys the ropes and lead by example by chasing whatever results are possible.
"The average age has dropped substantially in the team this year and there's a lot of young riders. That's going to change how we race and it's definitely changed my position in the team. I feel old now," Martin laughed (he's just 26).
"I'm now one of the older guys. It has brought it home to me that I'm going into my seventh season this year and the time has flown by. I have a bit of experience now and it's time to start helping the younger guys and seeing how they look to me for advice is a bit daunting in some respects. But obviously after last season it's a position I'm very willing to undertake."
Martin has enjoyed a longer than usual break from racing with his last race in Japan almost five months ago now. But that rest, he says, was a welcome break and he's now ready to ratchet up the intensity again.
"I left home in Girona last week and I think I'll only have something like eight days back there between now and June! I'm so relaxed, but I do want to get going. I think I'm going okay but I'm just easing myself into it, I'm relaxed going into the season.
"I was a bit sick a couple of weeks ago but everything has been perfect, it was a perfect winter. So coming into this race I don't have any pressure, it's just building for the Giro. I'll just see what happens. I always race hard anyway but I'll be backing up Talansky because he's going well and wants to do well here. Who knows how my legs will be, I really don't know."
Last year Garmin-Sharp got off to a disastrous start (on extremely slick roads it must be said) in what is known as the 'Race of the two Seas', finishing a lowly 16th out of 22 teams in the team time-trial.
And with the Giro featuring a similar discipline on the opening day, Martin says they'll be viewing this as preparation of sorts.
"The team time trial is going to hurt tomorrow but we're really smooth in training and that makes it easier, when you've guys who are so strong at it. We're definitely not the strongest on paper but the collective, we could do well. Our objective is to stay close to the GC guys with Andrew and then for myself, there's no pressure or expectation, obviously I've got Catalunya coming up so I'll just ease myself into it. It's okay to not destroy myself here at Tirreno.
"Obviously the team time-trial going to be important for the Giro. I'm happy with my position this year on the bike and I'm very happy with the setup I've got and I feel comfortable. It is kind of strange spending so much time working on position and equipment – and then all I do is a nine-kilometre time-trial here, and then the Giro! It's kind of a strange scenario but that's the way the sport is and it's so crucial to be good against the clock," he reasoned.
And with the Giro looming, starting in Belfast on May 9, he said everything between now and then is geared towards being in the best shape possible.
"It's partly the reason for the slower start to the season because if I was flying now it would raise a bit of a red flag or a warning, it'd be a worry for how the form will be on the start line in Belfast in two months, but my training is where I want it to be now and it's just a matter of easing into these races. The Giro is the Giro and that is the aim. Not only because it's starting in Ireland but it's a Grand Tour that suits me. Hopefully my allergies will be under control then, I can never say if they'll be fully under control, it's a bit of an unknown.
"We'll have a strong team to help me out in a race that suits my characteristics so it's exciting. And obviously the start in Ireland, hopefully I'll be able to carry that high of it starting at home all the way through the three weeks."
Dan Martin being chased by a panda en route to his win 
in Liège-Bastogne-Liège was one of the images of
Dan Martin - rider profile, biog, cycling results, photos