Did Armstrong own a stake in Tailwind Sports or not?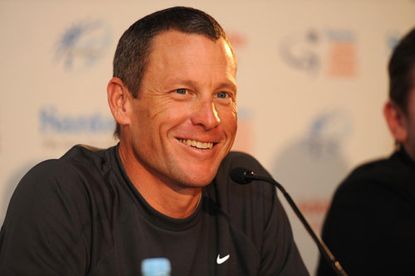 Lance Armstrong told reporters today that he would co-operate with the federal investigators who have begun to investigate the possibility of bringing fraud and doping charges against cyclists and team managers.
Speaking to reporters, he contradicted the statement he gave under oath when he said he did not own a stake in Tailwind Sports, the company that owned and operated the US Postal Service team. In 2005, he said he owned a small stake in the company, now he says he held no stake.
Yesterday, the New York Daily News reported that Trek, the bicycle company that supplied bikes to Armstrong's US Postal Service team, which later became Discovery Channel, had been issued with a grand jury subpoena to release documents relating to Trek's sponsorship.
Earlier this month, the Wall Street Journal ran a story in which Floyd Landis alleged that Tailwind Sports acquired Trek bikes and sold them on to help finance a doping programme. A Trek spokesman said it had no knowledge of such activity and would not condone it.
Today Armstrong tried to distance himself from Tailwind Sports saying that at no time did he own a stake in the company.
He said: "I was a rider on the team. I was contracted with Tailwind Sports, I never had any dealings with the Postal Service - zero. I didn't own the company [Tailwind Sports]. I didn't have an equity stake. I didn't have a profit stake. I didn't have a seat on the board. I can't be any clearer than that."
But this statement by Armstrong contradicts what he said under oath when deposed to give evidence in the arbitration case brought by Tailwind Sports against SCA Promotions, a sports marketing company, in 2005.
The text of the deposition says: Question: Can you tell us what your relationship, first, your business relationship, with Tailwind Sports is?
Armstrong: I'm an athlete on the team.
Question: Do you have any ownership interest in Tailwind Sports?
Armstrong: A small one.
Question: When you say a small one, can you give me an approximate percentage as to what that would be, if you know?
Armstrong: Perhaps 10 per cent.
Question: Do you know when you acquired that ownership interest?
Armstrong: No. I don't remember.
Question: Would it have been in 2005, or before that?
Armstrong: I don't remember.
Question: Who would know the answer to the question as to when you acquired an ownership interest in Tailwind?
Armstrong: Bill Stapleton.
Question: Is there documentation? Like, do you have papers or an ownership certificate of some sort that reflects your ownership interest in Tailwind?
Armstrong: I'm sure there is.
As Cycle Sport magazine's summer 2010 issue (and the Cycling Weekly issue dated July 2) reported, Tailwind took out an insurance policy in 2001 to cover the bonuses due to Armstrong in the event that he won the 2002, 2003 and 2004 editions of the Tour de France. That policy cost Tailwind $420,000. When Armstrong won the 2004 Tour, SCA was due to pay out $5m, on top of $4.5m it had already paid. SCA withheld the final payment because it wanted to investigate the allegations of doping made against Armstrong in David Walsh and Pierre Ballester's book LA Confidentiel.
At an arbitration hearing, Armstrong was deposed to give evidence. That was where he said he owned a stake of around 10 per cent in Tailwind Sports. In the end, SCA Promotions settled out of court. The company has been following recent developments since Landis's initial allegations in May closely.
Also raised at the SCA Promotions case was the issue of the donation made by Armstrong to the UCI to purchase anti-doping equipment. Armstrong said the donation was 'around $25,000'.
Earlier this year, Pat McQuaid, the president of the UCI, said that the donation was $100,000 and the money was used to purchase a Sysmex machine.
Earlier this month, Mr McQuaid spoke about the payments and revealed there had been two payments - one of around $25,000 made by personal cheque from the account of Armstrong and his then wife in around 2002. The second payment was $100,000, made on Armstrong's behalf by his management company, in 2005.
However, there are still inconsistencies in Mr McQuaid's statements.
On June 2, Cycling Weekly submitted a request for an interview to the UCI, together with a list of 19 pertinent questions relating to Armstrong's donation and the purchase of the Sysmex machine.
So far, despite a response saying the UCI would get back to us, all subsequent requests for an opportunity to ask the questions have fallen on deaf ears.
Related links
McQuaid confirms Armstrong donated $100,000 to UCI
Confusion over payment Armstrong made to UCI for Sysmex machine
US government assigns federal prosecutor to doping case sparked by Landis confession
CYCLING WEEKLY'S COVERAGE OF THE LANDIS ALLEGATIONS AND RELATED STORIES
May 19 Landis admits he doped, implicates others
May 20 UCI's initial response to Landis allegations
May 20 WADA to investigate Landis allegations
May 20 Team Sky's Dave Brailsford responds to allegations against Michael Barry
May 21 Armstrong denies doping allegations
May 23 Could US Postal Service be key to investigation?
May 23 Confusion over Armstrong's donation to the UCI and the Sysmex machine
May 25 McQuaid confirms Armstrong's donation was $100,000
May 25 After initially dismissing them, UCI now takes Landis allegations seriously
June 7 Armstrong heckled at Tour of Luxembourg
June 7 Landis is represented by same legal team as Lemond
June 10 USGovt appoints federal prosecutor
Thank you for reading 20 articles this month* Join now for unlimited access
Enjoy your first month for just £1 / $1 / €1
*Read 5 free articles per month without a subscription
Join now for unlimited access
Try first month for just £1 / $1 / €1