Doha heat concerns prompt latest ever World Championships in 2016
With the heat still expected to reach 35 degrees, the UCI have pushed next year's Worlds back to its latest date in history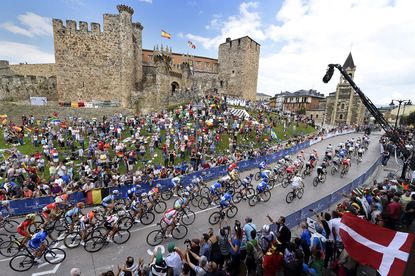 (Image credit: Watson)
The 2016 World Championships in Doha, Qatar, will run later than ever before. The UCI, cycling's governing body, confirmed next year's cycling calendar on Thursday with the Doha Worlds scheduled for October 9 to 16, following every major race planned.
This year's men's road race is in Richmond, USA, on September 27.
The Worlds first ran in July in 1927, before moving to August and September, and for 10 years from 1995 to 2005, often crept into October.
The 2000 Worlds in Plouay, France, sat nearly in the same spot as the Doha Worlds, but ended one day earlier on October 15 with Latvian Romans Vainsteins winning the men's road race.
It is not the Olympic year, but the heat that concerns the UCI and local Doha organisers. The average high in October is around 35°C, but in September it reaches 39°C with the mercury regularly going in the 40s.
Watch: Aerobike vs lightweight - The climbing test
The heat would be similar to what the WorldTour peloton faces in the Tour Down Under in Adelaide, Australia, or during one of the particularly hot Tour de France stages.
"We have looked over the last 10 years at that October 16 date," Director of Sport Operations for the Qatari cycling federation, John Lelangue said at the circuit presentation in February.
"The average over 10 years, between 31° and 32° [87.8-89.6°F]. The peak was in 2008, when it hit 38° [100.4°F], that was the exception.
"To make sure we are covered, we are working with the UCI and giving attention to the feed zones to make sure every rider gets his feeding and considering motor bike with water bottles like in the Tour de France or other big races."
>>> Five reasons why the WorldTour reforms are good for everyone
The October 9 to 16 dates fall later than all the other major events on the UCI's 2016 calendar. Il Lombardia, typically the last race on the WorldTour calendar, will come beforehand on October 1.
In its current calendar, the road world champion would have to wait until 2017 to race in his new rainbow jersey.
In the calendar published on Thursday after a meeting at the Richmond Worlds, the Eneco Tour and Tour of Poland also took different dates.
To make way for the 2016 Rio de Janeiro Olympics in August, the Eneco Tour moved to September 19 to 25, immediately after the Tour of Britain, and the Tour of Poland moved to July 12 to 18.
Thank you for reading 20 articles this month* Join now for unlimited access
Enjoy your first month for just £1 / $1 / €1
*Read 5 free articles per month without a subscription
Join now for unlimited access
Try first month for just £1 / $1 / €1