Etixx-Quick Step not invited to Tour of Qatar due to 'lack of respect'
President of the Qatar Cycling Federation says the Etixx-QuickStep team has a 'problem with discipline' and says that their request to take part in the Tour of Qatar was rejected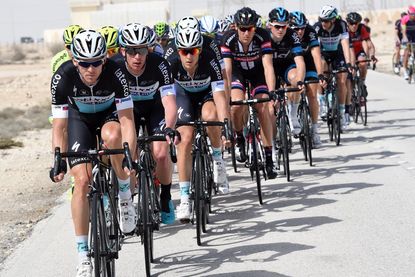 (Image credit: Watson)
The President of the Qatar Cycling Federation revealed in a pre-race press conference today that Etixx-QuickStep were not invited to the 2016 edition of the Tour of Qatar, despite the team dominating the event's history.
The Belgian outfit have won the race eight times in the last 10 years, but Sheikh Khalid Bin Ali Al Thani told journalists that discipline problems caused their application to be rejected.
"We did not send them an invitation. Yes of course [they wanted to come], we have proof of it," the Sheikh said.
"We make a good effort to make a lot of teams come to the race and [Etixx] Quickstep is one of the important teams. But we have noticed that, not only last year but even before that, we have a problem with discipline with Quickstep."
The Sheikh explained how team members were often late for podium ceremonies, despite being asked to arrive more promptly.
>>> Tour of Qatar 2016: Latest news and reports
"They'd take too much time changing their shoes, laying around, and then meeting the press while keeping us waiting. They can't do that. That's been going on for a couple of years, that's not the first time. We send people to hurry them up and they talked to them in not a very nice way. Then there were some problems with the hotels."
Despite being pressed, he would not elaborate on these problems, though cited a lack of respect from team members.
"It's his decision," said race organiser, Eddy Merckx, when asked to comment on the news Etixx-QuickStep had been excluded from the five stage race, which begins tomorrow.
Other races on the calendar and the Rio Olympics were reason for the the absence of other big teams, according to Merckx.
"This year is special because you have the Olympics just behind the Tour de France," he explained.
Watch: Men's WorldTour contenders 2016
"A lot of riders do not want too much pressure for the beginning of the season, then you have the Tour of Valencia and [Herald] Sun Tour in Australia. There is more races so the teams decide to come or not to come, but teams for next year will be completely different.
The contract for the race ends this year, however, Sheikh Khalid Bin Ali Al Thani also revealed his Federation has applied to the UCI to upgrade the event to WorldTour in 2017.
"We hope we have a good chance," he said. "We are the oldest tour in the region so if the ProTour [WorldTour] is coming to the area it should come here first. We have good confidence in that. We didn't sign the contact yet, but it will be signed. We have a green light on that."
Thank you for reading 20 articles this month* Join now for unlimited access
Enjoy your first month for just £1 / $1 / €1
*Read 5 free articles per month without a subscription
Join now for unlimited access
Try first month for just £1 / $1 / €1