Exclusive: Lizzie Armitstead on her determination to make it to the top of cycling
World champion Lizzie Armitstead sits down with Cycling Weekly to talk about her cool determination to make it to the very top of the sport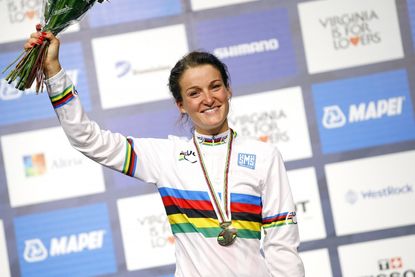 (Image credit: Watson)
Britain's road world champion sits by Monaco's Porte Fontvieille where some of the principality's less showy super-yachts are moored under the gaze of St Nicholas Cathedral.
Down to earth and unpretentious, Lizzie Armitstead could be seen as out of place amid the moneyed grandeur of her chosen home.
"Originally I felt uncomfortable with the lifestyle," she explains. "But actually for me it's a good place to be because I'm the smallest fish in this extravagant pond. You look out of the window at all the ridiculous outfits people are wearing and think, 'Oh God!'"
Small fish in an extravagant pond she may be, but Armitstead's recent performances have matched the grandeur of her surroundings. She is world champion, the very best in her field, with the ambition to match it.
"Being the best in the world" is what motivates her, she says. Her eyes flash momentarily, offering a glimpse of that burning drive before hiding back behind her smile.
"There's no point doing it unless that's what you're aiming for," she continues. "It's such a lifestyle choice, an all-encompassing career, if you're doing it you do it properly. I suppose I decided it was about winning."
Worlds victory
This year she has won plenty, most memorably at September's World Championships in Richmond, Virginia, where she combined both physical and mental prowess to win that famous rainbow jersey.
"I just felt so in control," she says, thinking back to that day in Richmond. "I've never felt like that before. It went exactly to plan. It's tunnel vision, I'd gone through everything in my mind, I never let it faze me that I couldn't see a team-mate because I knew that wasn't going to happen. I didn't set myself up to fail. I was never under pressure."
>>> Watch: Highlights of Lizzie Armitstead's World Championships victory
Surely there was a flicker of concern when a strong break went clear just 30 kilometres out? "No," she responds, with utter conviction. "I knew I had to play poker, I knew they would bring it back. I just knew."
Dream come true
For all that conviction, the seven weeks between that fateful day and our interview had not been sufficient for Armitstead to fathom what it means to be world champion.
>>> Peter Sagan: No-one can understand the feeling of being world champion
"I've not come up with a good answer," she admits. "It just feels like a dream come true."
The occasional car horn or stare from passers-by proves that even in Monaco, where glamour and glitz are part of everyday life, the rainbow jersey still stands out.
"I suppose I do feel a bit conspicuous," Armitstead adds. "I feel privileged I am in a sport where you get to show it off a little bit. I feel pride every single time I put it on. I'm not used to that yet."
The contrast is clear: when we met for a similar interview one year ago, Armitstead appeared subdued and burdened by regret at what had been seen as a missed opportunity at the 2014 Worlds in Ponferrada, Spain, where she was arguably the strongest rider but could only finish seventh.
"I'm happy. Definitely," she now smiles. "I've been searching for the word, I do feel different as person, I feel much more self-assured.
"I'm a bit of a control freak and I feel so much more in control at the moment, like I'm dictating my decisions and my future. I feel good about that."
Who to watch in 2016
Last season was Armitstead's most successful year to date, winning from February's Tour of Qatar to the Worlds in September.
She became only the third woman to retain the World Cup title and regained the British champion's jersey with a coruscating attack on the penultimate ascent of the Michaelgate cobbles in Lincoln last June. Yet, despite her newfound self-assuredness, her early success almost became a concern.
"Before the year started I just wanted to be world champion," Armitstead, who turned 27 just before Christmas explains. "The Tour of Flanders would have been nice, but I expected my performance to come at the World Championships.
"I was pretty shocked to win in Qatar, you always expect to go there for a break from training, have a ride in the sun, but there was a moment when I thought, 'Oh no, I'm too good, too soon.'"
"It comes from always worrying that no matter how hard I worked, cycling has this uncontrollable element when you get to racing, and that was what I found so hard after Ponferrada. I'd worked so hard and there's that part you can't control, so I think I learned a lot from that."
Key to success
A desire to be in control — and her discomfort out of it — is key to Armitstead's success. She maintains a tight group of confidants and seems unwilling to fully trust those outside that clique.
So all-encompassing is this desire that she regularly trains and races without so much as a bike computer (see below). But success seems to have reinforced her belief that Lizzie Armitstead knows best what Lizzie Armitstead needs, and nothing more so than her win in Richmond.
"You're always searching for this massive goal and then suddenly you've achieved it," she explains.
"It's like a vindication of everything that I have believed. I stuck by the process and I didn't get lost in other people's advice, it was very much an independent job and it's nice to know that I was doing the right thing all along. So your confidence goes sky high.
"My career is my responsibility," she adds. "I always think it's incredible that people can let a coach decide their final preparations going into a World Championships or Olympic Games. They get a programme through three weeks before and they follow that. I could never be spoonfed that kind of information."
Armitstead's decision to focus on the road coincided with her move to Monaco at the end of 2011. She's not the only one: Monaco and the surrounding areas are home to numerous pro riders, including Chris Froome, Richie Porte, Geraint Thomas and Philippe Gilbert.
The mountains, the mild winter weather and year-round consistent training, she explains, have "changed my career 100 per cent".
However, Armitstead eschews riding with the 'Monaco set' most of the time. Despite occasional rides with Velocio-SRAM rider Tiffany Cromwell, her training is mostly done alone.
She explains: "There's a nice group of people that meet at 9.30am if you want to go for a coffee ride, but funnily enough, the less riding I do with them the better my performances are!"
As her road career began to flourish, structured support from British Cycling declined, though again that is more to do with her grabbing the reins of her career than the national federation refusing to help.
She remains grateful for their support during her early successes and in selecting a team of young support riders at Richmond with one eye on supporting her in Rio, but Armitstead is in no doubt as to where the credit for her road career lies.
"I work alongside my professional team Boels-Dolmans; they are my support network and it would be wrong of me to accredit any part of that success to British Cycling," she says.
"Had I asked for more support it probably would have been there, if I'm honest, but I'm at the top of my sport and in the position that I don't want it."
Low-tech Lizzie
At what were arguably her two best wins of the year, the Worlds and GP de Plouay, Lizzie Armitstead raced without a Garmin.
"I think I am totally in control," she explains. "I don't want to trust a Garmin whose battery might go. You see riders panicking even in a training ride if their battery's gone. The ride still happened; just because you can't log it on the internet, you still had that time in your legs. Chill out!"
Restless ambition
Looking ahead to the Rio Olympics hasn't given Armitstead much time to step back and bask in the bright rainbow of success. Besides a short holiday, it is now back to the daily grind. Armitstead takes her media duties seriously but has had to learn to say no over the years.
"In the beginning I found it really difficult, a girl from Otley telling people I've got an agent, but it's the best way to do things," she explains.
"If I can do it then I should, because that's part of my responsibility as world champion, but I wouldn't say yes to everything and end up harming the performance next year. That comes first, and always will."
Despite the exposure, Armitstead is a private person and will avoid answering certain questions — a polite 'none of your business' if you will. That said, she is happy to talk about the personal success she found in 2015.
In early September she became engaged to Sky rider Phillip Deignan and the couple plan to marry after the Rio Olympics. The solidity of the relationship has brought a new outlook.
"It gives you perspective," she says. "Knowing that you care about something more than you care about your bike. I know that if anything ever happened and I was suddenly rubbish at cycling it wouldn't matter to him."
Get faster with these simple steps
That is not likely any time soon. Armitstead appears undecided on her plans post-Rio, though rebuts suggestions of retirement, feeling her professed desire to have children has been misconstrued recently in the press.
Whenever retirement does come though, expect to see her remain in the sport, taking advantage of both her expertise and the boom in women's cycling.
Before that, and in the forefront of her mind, there remains the matter of Rio, where Armitstead intends to add gold to the Olympic road race silver medal she won in 2012. In August this year she travelled to Brazil and was taken aback by the course.
"My only hope was that the course was going to be hard enough, but I had not expected it to be too hard. I was in shock, it's brutal, and even now I am worried that my memory has softened it. I have to keep reminding myself," she says.
>>> Armitstead: I'm not the favourite for brutal Rio Olympics road race
"I believe there's a chance I can win it. I have to put all my eggs in one basket for that race, it may compromise other races, but you only get so many Olympics in your career."
Armitstead describes herself as controlling in nature, but maybe that is more a desire to take responsibility, to have no one but herself to blame. She has found out what works for her, and worked out that achieving what she wants takes hard work and commitment.
A small, slightly reluctant fish in the star-filled pond that is Monaco, the girl from Otley has grown into the prize catch in women's cycling and is set to remain that way for some time yet.
Full trust in Stam
Lizzie Armitstead first joined forces with her Boels-Dolmans directeur sportif, Danny Stam, at the Dutch AA Drink-Leontien team in 2012, and credits the former track racing star with being the tactical mastermind behind her success.
"I like to keep my bubble small and there's not many people that I would trust or click with," she says.
"That's quite difficult to come across and Danny is one of those that I do click with. I get on with him off the bike, I know his family very well and he has an ability to bring out the best in me, I don't know specifically why.
"He was a rider himself, so I respect what he's got to say. To me that's huge; you don't trust a fat nutritionist, and you don't trust a sports director that never raced. He's very direct and that's what I like. The Dutch way is direct and that's how I work efficiently, there's no sugar coating, it's just professional."
Would she be at the top without him? "Yes. But it would have taken a lot longer probably," she says.
Lucky escape
The glorious end to Lizzie Armitstead's season may never have happened had the injuries sustained after winning stage one of the Aviva Women's Tour in June been as serious as first thought.
With both arms raised in celebration, she inexplicably veered into the finish line photographers and was subsequently airlifted to hospital. Though not seriously hurt, she was forced to withdraw from the race.
"There were no broken bones, but I crashed at high speed and it's still going to do something to your body, so I took it easy, but just got on with it to be honest," Armitstead says. "I don't think I've taken my hands off the bars too many times since though!"
Thank you for reading 10 articles this month* Join now for unlimited access
Enjoy your first month for just £1 / $1 / €1
*Read 5 free articles per month without a subscription
Join now for unlimited access
Try first month for just £1 / $1 / €1
Owen Rogers is an experienced journalist, covering professional cycling and specialising in women's road racing. He has followed races such as the Women's Tour and Giro d'Italia Donne, live-tweeting from Women's WorldTour events as well as providing race reports, interviews, analysis and news stories. He has also worked for race teams, to provide post race reports and communications.