Fabian Cancellara not happy with new hour record rules
The Swiss rider laments the changes made to the hour record rules by the UCI, but admits the sport has to move with the times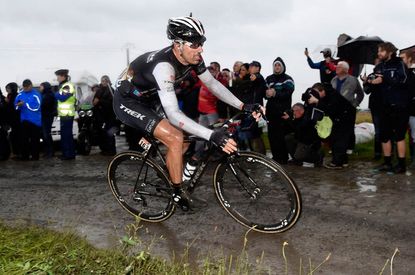 (Image credit: Graham Watson)
It was partly thanks to Fabian Cancellara that interest in the hour record has surged recently, but the Swiss rider is not so fond of the direction the famous record has moved.
Cancellara was one of the first riders to moot their interest in attempting the Hour back in February, and originally planned to attack it after this year's Tour de France.
But 'Spartacus' inadvertently sparked a great deal of interest in the record, prompting the UCI to revise the rules.
In an interview with VeloNews, the three-time World Time Trial champion admitted the hour record has gained more attention than he anticipated.
"As soon as I was thinking [about it] everything got huge," he told the website. "And that's what I didn't want it to [be]. Without putting effort from my side in I think there would never be a big discussion… Now there's already two people who have had [the record], the third one will probably come."
It transpires that Cancellara is more of a traditionalist, preferring the road bike setup used by Eddy Merckx in his 1972 record to the specialist track ones used by Jens Voigt and Matthias Brändle this year.
Merckx's mark of 49.431km was eventually beaten 28 years later by Chris Boardman, and Cancellara admits the technology and precision in the modern record has taken some of the magic out of it.
"I still see that as another record, with the Merckx-style bike and with the normal TT position, however you want to call it," Cancellara added. "Now we are in 2014 but we have to run with the times somehow, but I think it's also nice to not run with the times.
"Because at the moment the equipment is much faster than even [Tony] Romiger's time. Also, now with cycling the sport gets cleaner and we still ride faster. It's also because equipment, scientist stuff, training all this."
Source: VeloNews
OPQS rider will attempt record if he can combine training with his road goals.
Dutchman Thomas Dekker will attempt to beat Matthias Brändle's Hour Record in the spring despite being without a team in
Former Hour Record holder Ole Ritter thinks Bradley Wiggins could hit the 55-kilometre mark for the iconic record
Thank you for reading 20 articles this month* Join now for unlimited access
Enjoy your first month for just £1 / $1 / €1
*Read 5 free articles per month without a subscription
Join now for unlimited access
Try first month for just £1 / $1 / €1