Claudio Chiappucci interview
One of the most exciting climbers of the 90s, Claudio Chiappucci on his idols, his father's army years with Fausto Coppi, his enduring friendship with Stephen Roche and why he's looking forward to being a pensioner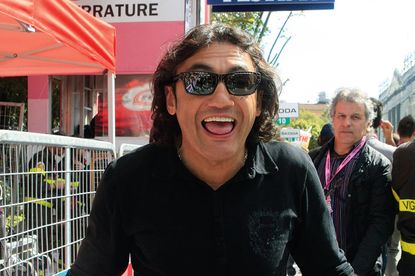 They nicknamed me El Diablo when I was racing in South America because I'd always attack. It must have been strange for them to see a European cyclist racing that way. I told the story when I returned to Italy, and the name stuck.
I became a Grand Tour classification rider at the 1990 Tour. I'd just won the Giro's mountains jersey and was motivated to do the same in the Tour. I went for the points in the first stage, took 10 minutes and nearly won the race overall. I won the mountains jersey for the next two years and I finished second in 1992.
Greg LeMond called me Cappuccino. He didn't like that I was coming and threatening his reign.
Marco Pantani was from another generation, but I raced my final year with him. There was a clan around him, though, that tried to split Team Carrera in two. Afterwards, Pantani went to Mercatone, but Carrera created him.
Stephen Roche was my best friend in the bunch. I was a helper for him, then he became my helper. I still get on with him the best.
Time passes quickly. It's been over 20 years since I won the stage to Sestriere in the 1992 Tour. I went back to see the climb recently. The road and trees look different, but the story remains.
Fausto Coppi won at Sestriere in 1952. My father was a big Coppi fan as he served in the army with him in Africa. When Coppi won, though, the road conditions and racing were completely different. I had no plan to copy his escape 40 years later. I only realised what I'd done later.
Gino Bartali was my role model because he was still alive in my time. Like my family, he was from Tuscany. He came from Florence and my parents came from 100 kilometres away in Massa Carrara. My parents moved to Varese, where I was born.
They called Raymond Poulidor the eternal second. I didn't think much about my palmarès, maybe they could've included more wins as well, but I wanted to do something different. It's better to have personality than results.
Gran fondos and golfing fill my time. I have my own gran fondo near Dijon every year and ride well. Even though I'm 50, I finished fifth. That was riding with guys half my age.
I'm looking forward to turning 53. Then I can start collecting my pension payments!
Thank you for reading 20 articles this month* Join now for unlimited access
Enjoy your first month for just £1 / $1 / €1
*Read 5 free articles per month without a subscription
Join now for unlimited access
Try first month for just £1 / $1 / €1