Fernando Alonso says sorry to Paolo Bettini for failed cycling team
Paolo Bettini gave up his job with Italy's national cycling squad to manager Fernando Alonso's team, which failed to materialise in 2015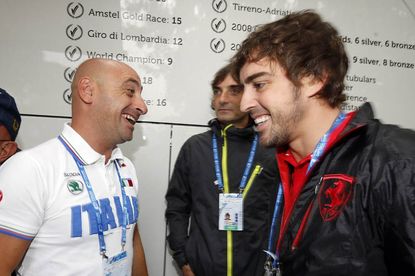 (Image credit: Watson)
Fernando Alonso apologised to Paolo Bettini for involving him in his failed attempted to begin a cycling team in 2015. Bettini, twice world champion, quit his job as team Italy's head coach to direct the Formula One driver's startup project.
"We met in in December," Bettini told Italy's sports daily, La Gazzetta dello Sport.
"It was a frank meeting, where we looked each other eye to eye and he apologised."
The 40-year-old Tuscan retired in 2008 after a career that included wins in the World Championships, Liège-Bastogne-Liège, Milan-San Remo and the Olympics.
He became Italy's national director, but quit that job at the end of 2013 to help Alonso begin a first division team for the 2015 season.
Bettini appeared to be on track for the team's 2015 debut. He told Cycling Weekly during the 2014 season that he had riders lined up to sign and that an announcement regarding the team would happen in March or April.
Spain's 33-year-old Alonso and his manager Luis García Abad delayed the announcement, first to July at the Tour de France and then indefinitely, as Alonso was forced to focus on F1 racing. During that time, Ferrari shook up its team and said good-bye to Alonso, who joined McLaren for 2015.
On October 7, 10 months after Bettini left his job with the Italian federation, Alonso's dream team officially died when cycling's governing body failed to receive a licence request for the 2015 season.
"We talked with sincere emotions. We left each other on good terms. No problems or controversy," Bettini said of their December meeting.
"If he need help again and calls me then we can see if I'm still free and if we can find the right agreement. Would I be wary? Inevitably, yes."
Bettini explained that he believes Alonso will try to start a team again because he is truly passionate about cycling.
The two-time world champion driver reportedly had a €100m (£76.3m) sponsorship agreement for five years from the UAE.
Thank you for reading 5 articles this month* Join now for unlimited access
Enjoy your first month for just £1 / $1 / €1
*Read 5 free articles per month without a subscription
Join now for unlimited access
Try first month for just £1 / $1 / €1