Geoff Thomas: Why I invited Lance Armstrong back to the Tour
The former England footballer turned cancer fundraiser talks to CW about his planned rides with the Texan.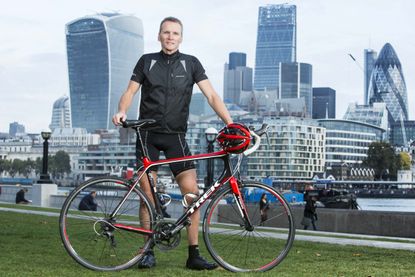 (Image credit: http://www.cureleukaemia.co.uk)
Former footballer Geoff Thomas has defended his decision to invite Lance Armstrong to take part in his fundraising bike ride that will see him ride the full 2015 Tour de France route.
Cancer survivor Thomas is aiming to cycle the entire Tour route, with the aim of raising £1m for Cure Leukaemia, one day ahead of the race.
Last weekend's Mail on Sunday reported that Thomas has invited the disgraced former racer to join him for a couple of stages.
UCI President Brian Cookson is among those who have criticised the move, saying it is "completely inappropriate" of Armstrong to take part.
Cycling Weekly spoke to Thomas about why he invited Armstrong to join him, and the reaction since the story broke.
CW: Are you surprised by the reaction to the story?
GT: No, not at all. I think what's delighted me is that people who know about what I'm doing have responded well to my decision to involve Lance. I knew I'd get a reaction from people who may have not looked to deep into the story. I believe the positives will outweigh that as we go on.
CW: Can you understand it? Do you not feel Lance Armstrong has done enough to damage the Tour already?
GT: Of course I can. I've been intrigued about cycling since I became fascinated in it a few years ago, I've read as many books as I can about it, I understand its history, so I'm not naive to go into this without thinking long and hard about it. But I think there's a bigger story here; to raise awareness and as much money as we can for this fantastic charity. It's my job to work out how to do that as best as we can. This has stirred up a lot of people's feelings, yes, but it's all from a good side from my perspective.
CW: How did Armstrong get involved?
GT: He's been aware of what I'm trying to do for the last year or so. At first he was quite suspicious, but I worked on him, told him about what the charity does, and he was intrigued by it.
I made the effort to go and see him about a month ago. I wanted to see how he'd react to an offer to help in the fight against cancer again. What I saw was somebody who was frustrated he couldn't do that type of work with LiveStrong anymore. It's a great opportunity to get him back into that realm, and hopefully in future help him make millions of pounds for charity again.
CW: Do you worry that your ride will be hijacked by, or because of, Lance?
GT: There's going to be a negative attachment all the way through now, I know that. But the reason I got on the bike was because of Lance's story and fight with cancer. I can't forget the part of my life when I was diagnosed and fought the illness – it's too strong for me to forget. He'll pay the price for what he's done, yes, and he's tarnished his name. But I think Lance has got an opportunity to get back into the fundraising world, and that's a good thing.
CW: Has there been any noticeable effect on donations since the story became public?
GT: There's been a lot of support from people who are behind us; now it's up to us to make sure we can turn this noise into raising money. We need to get our messages about the cause out there now.
CW: Which stages is Lance likely to ride with you?
GT: That's all to be confirmed. I'm conscious that all of what people may say and do, so I'm trying to respect everybody's concerns. He's willing to do as much as he can – likely no more than two or three days. He won't be anywhere near the professionals, he won't see the Tour.
Thank you for reading 20 articles this month* Join now for unlimited access
Enjoy your first month for just £1 / $1 / €1
*Read 5 free articles per month without a subscription
Join now for unlimited access
Try first month for just £1 / $1 / €1