Giant-Shimano on hot winning streak
Wild, Degenkolb, Kittel and Ludvigsson contributing to early season flyer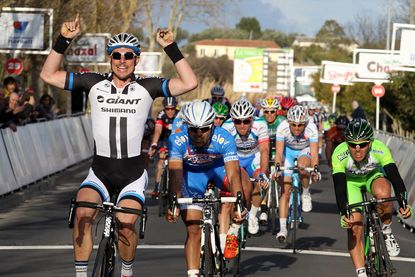 (Image credit: Graham Watson)
There are few, if any, races Giant-Shimano hasn't celebrated a victory in this month and its dramatic evolution and rise in stature has surprised even stalwart pilot Koen de Kort.
De Kort was an integral part of the train dedicated to supporting Marcel Kittel at the recent Dubai Tour in which the latter celebrated three consecutive, and convincing, stage wins against a proven field of sprinters including Mark Cavendish.
At the same time, Kirsten Wild was on her way to winning the Ladies Tour of Qatar whilst, in Europe, Tobias Ludvigsson took out the Etoile de Besseges. Versatile sprinter and six-time Grand Tour stage winner, John Degenkolb was knocking on the door there with podium places in stages two, three and four, contributing to his third place overall, before claiming the first two stages of the Tour of the Med yesterday and today.
It's not bad for the youngest team of the WorldTour that secured its top-tier licence just last year, and has proven its aptitude for identifying, developing and verifying tomorrow's leaders, as opposed to signing established talent.
Kittel, as one example, within three seasons has transformed from first thought time trialist, to fast man, to most successful neo-professional, to quadruple Tour de France stage winner and, increasingly so, the pure sprinter of reference.
"It's obviously been really good the last two years," de Kort told Cycling Weekly from Spain. "Both these sprinters, Degenkolb and Kittel, have evolved and turned out to be world class. The support that they get in the team, it's maybe not a surprise, looking back at it, that it's like that at the moment but I never anticipated that at all. We're also in a different position now and hopefully we can stand up and do it."
De Kort puts the team's increasing dominance down to its musketeer attitude as much as anything else. Although it has also advertised "innovative" training approaches from science to mental coaching.
"That's the way we work and I think not a lot teams work like that - the riders want to do their own thing and get their own results. I can understand that as well," he said. "In another team I probably would have done the same but I know that in my team it's really appreciated, the way we all ride for one rider, even early on in the season."
De Kort has supported Kittel at both the Tour Down Under and Dubai Tour but, like last year, is now due to switch to good friend Degenkolb's programme at least until the Classics where he also has his own aspirations.
"I should be pretty good for it. Obviously I won't have the whole team working for me but I think there's still possibilities for myself and I think we should be able to be there with a pretty strong team this year," he said.
"We're not the team to beat but we should play a role in the finals."
The 31 year old 12 months ago was recovering from a broken collarbone sustained in a crash at the Tour of Qatar and is thus in better shape than the same time last year. That may also be due, in part, to starting pre-season training earlier. De Kort broke his collarbone for a second time at August's Vattenfall Cyclassics, which effectively ended his season.
"The biggest problem was trying not to train too hard, too early. My goals are still the same this year and I still want to have my first dig at the Classics," he said. "Training too hard too early definitely would have been detrimental to that. I'm on track to be in peak form at the end of March."
Playing a vital role in the Tour de France will once again be a major target for the Dutchman. Giant-Shimano may not be, in de Kort's eyes, the team to beat in the Classics, but it stands to be in Grand Tours. Last year the squad, through Degenkolb, Kittel and the 22 year old Warren Barguil, won at least a stage in every one. The battle between Kittel, Cavendish and Andre Greipel (Lotto Belisol) in bunch sprints at the Tour promises to be a feverish talking point in the lead-up and throughout.
Cavendish's Quick Step outfit will most likely determine its lead-out order, this year including class recruits Mark Renshaw and Alessandro Petacchi, on the road whereas Greipel traditionally takes the same men to major races. Giant-Shimano on the contrary has demonstrated a more fluid approach in the big bunch sprints, which seemingly works, no less in Dubai.
"We've all really trained for our specific position but we can definitely pick up another, and we're all not too proud to do that," de Kort said.
"Twice in the [Dubai] sprints we lost Marcel for a little while and then the whole team still managed to get him back. [Chief pilot] Tom [Veelers] brought him back to us and the rest of the guys picked up a different role. And you can see then that Marcel is just a really smart sprinter. Where it seems he would get to the front too early he just lets one or two guys in and he's still in the right position. He's very switched on like that.
"I think that's the main difference with Omega Pharma-Quick Step and Mark Cavendish," he continued.
"They have massive potential with the final guys in the lead-out now. I think they need a little bit more time to get used to each other and know exactly what to do and when to do it. It might get a little bit frustrating for Cavendish to have to do that, you know, and see one of his direct competitors win three stages, but I'm sure that they'll get there."
If February is any indication, Cavendish and company won't be the only ones nervously looking at the Dutch squad as the season progresses.
Thank you for reading 20 articles this month* Join now for unlimited access
Enjoy your first month for just £1 / $1 / €1
*Read 5 free articles per month without a subscription
Join now for unlimited access
Try first month for just £1 / $1 / €1