GP Camaiore is latest Italian race to be cancelled due to high costs
Tough economic climate in Italy forces organiser of GP Camaiore to cancel 2015 edition to concentrate on hosting stage of Tirreno-Adriatico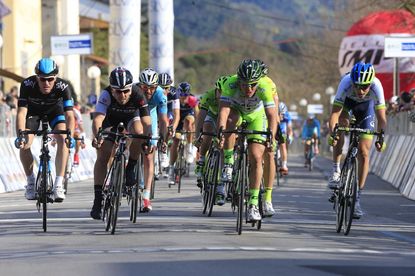 (Image credit: Watson)
The organiser of Italy's GP Camaiore has been forced to cancel its race after 65 editions, instead hosting the opening stages of the 2015 Tirreno-Adriatico in March.
"Unfortunately, cycling has changed dramatically," the mayor of the Tuscan city, Alessandro Del Dotto told Versilia Today website.
"Today there are high costs and competition from organisers around the world that a municipality cannot possibly match in the economical times we are experiencing."
Camaiore and the Versilia area on Tuscany's coast made a three-year deal with Tirreno-Adriatico organiser, RCS Sport. In 2015, the region will host the first stage and the start of the second stage of the 50th edition of the race, which runs from March 11 to 17.
The race's demise highlights Italy's hard economic times. In August, the country's economy slid back into recession for a third time since 2008 with national public debt still hovering at €2 trillion (£1.59t). Cycling is also paying the price.
"The races are suffering, they have closed their doors," Alex Carera told Cycling Weekly. The Italian began as a football agent but now works in cycling for riders like Tour winner, Vincenzo Nibali.
"The cities and regions don't have the money like they did before to finance the races, so now they have to be more attentive."
Created as an amateur event in 1949, the GP Camaiore one-day race switched to being professional in 1966 and included winners Eddy Merckx, Paolo Bettini and Peter Sagan. It held an August time slot for years before switching to the spring. This year it ran as a 1.1-ranked race on March 6, just before Tirreno-Adriatico.
The problem is not limited to the GP Camaiore. The women's Giro d'Italia and GP Donoratico struggled to continue into 2014. Others stopped completely: Baby Giro, or GiroBio, Reggio Calabria, Giro del Piemonte, Settimana Lombarda, Giro di Padania, Giro del Veneto, Giro di Romagna, Trofeo Matteotti, Coppi Placci...
Italy's remaining top races include the Giro d'Italia, Tirreno-Adriatico, Milan-San Remo, the Giro di Lombardia. Behind those are a series of HC and -.1 races: the Giro del Trentino, Roma Maxima and Strade Bianche.
RCS Sport, a Milan-based media group and the biggest race organiser in Italy, owns all of those except Trentino and admits that only the three-week Giro d'Italia, this year in its 97th edition, makes real profit.
Milan-San Remo route to follow same course as 2014, without the 'unsafe' Pompeiana climb
Thank you for reading 5 articles this month* Join now for unlimited access
Enjoy your first month for just £1 / $1 / €1
*Read 5 free articles per month without a subscription
Join now for unlimited access
Try first month for just £1 / $1 / €1