GRAB YOURSELF A FREE MOUNTAIN BIKE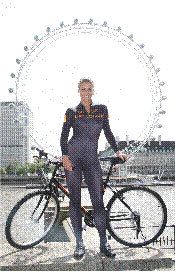 A key Tour de France sponsor is giving away 500 mountain bikes and helmets to celebrate the Grand Depart in London this year.
World Track silver medallist and Plowman Craven-Evans Cycles rider Tony Gibb and actress Gemma Atkinson will be handing out a total of 500 black mountain bikes for free to members of the public. All you have to do is turn up at 9am on July 4th in Covent Garden and pick one up.
The bikes, worth £200, are 18-speed, medium-sized mountain bikes, with Shimano gears and alloy wheels.
Tony Gibb said: ?I know a thing or two about safe cycling and would encourage Londoners to always ensure safety was high on their priority list. It is great that Orange are giving away so many top quality bikes for people to use.?
The give away is in support of London?s ?On Yer Bike? initiative to celebrate this year?s Grand Depart.
For more information go to www.orange.co.uk