We're hiring bike and product testers
Get paid to ride bikes. Yes, really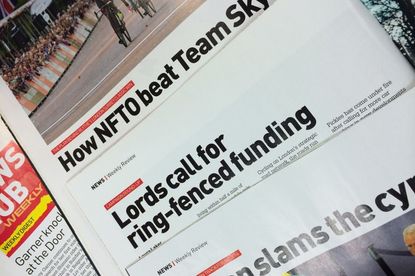 Are you a bike rider with an encyclopaedic knowledge of gear and technology? Do you have strong opinions and the know-how to back them up?
Do you want to land a dream job as a full-time tester for our road bike magazines and rapidly growing website?
As a tech writer for Time Inc (UK), you'll work across Cycling Weekly, Cycle Sport, Cycling Active and cyclingweekly.co.uk. You'll write product tests, news and buyers' guides for all kinds of bike-related tech, producing content for publication in print, digital and video formats.
You'll be willing to delve deep and conduct your own investigations to see the truth beyond the press releases and marketing puff; you'll make (or already have) contacts throughout the bike industry to secure product tests and exclusives; you'll be able to make dry technical content accessible and engaging to new readers and experienced riders alike; and you'll hit your deadlines every single time.
We welcome applications from all backgrounds, but with two crucial prerequisites: you can write clearly and accurately, and you already have good knowledge of road bikes and associated technology.
This position is part of our tech team, reporting to the Cycling Group's tech editor, Symon Lewis. It is a full-time position, based at our offices in Croydon.
To apply, send a covering letter and CV to symon.lewis@timeinc.com. Closing date for applications: Monday 30 March.
Thank you for reading 20 articles this month* Join now for unlimited access
Enjoy your first month for just £1 / $1 / €1
*Read 5 free articles per month without a subscription
Join now for unlimited access
Try first month for just £1 / $1 / €1